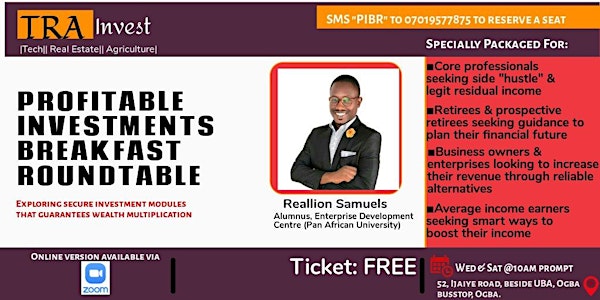 Investors & Investment Breakfast Hangout
We put this together to bridge the knowledge gap between potential investors and the profitable investment modules of this decade.
About this event
It's everyone's desire to attain a level where all we do is put our resources to work while we relax to enjoy the dividends of our investments.
However, without proper guidance on what to do, how and when to go about this, very many have gotten their fingers burnt; first by plugging those resources into unprofitable ventures that end up sinking one's hard earned wealth and secondly by falling victim of scam projects that appear too attractive to be ignored, only to end one up in avoidable ditches.
All these we have put into consideration and we've thought it worthwhile to be the investors guide on matters of decision making and due diligence before taking investment leaps.
Past participants of our breakfast roundtables remain thankful for the role our team plays to help shapen their choices and decisions on matters of business and investment. We are glad about what we do and excited to do even more.
Are you a business owner seeking to improve on your revenue base? You are probably a retiree or an aspiring retiree, right? You could be an undergraduate or a young school leaver planning your bright future for yourself.
Career professionals aren't left out as well; as it is never too early to plan for life after 8am to 5pm. It's only wise to plan for such a time when our limbs would become too weak to carry us.
Register now for FREE to join our next breakfast meeting. It promises great insight and impact.
Don't also forget to send "PIBR" as SMS to reserve your seat among the countless registrations we get weekly.
We also do set apart some very special benefits for the first 10 registrations we get each week. You could be one of the next ten, you know? But you have to register first.
Click the button to register now!