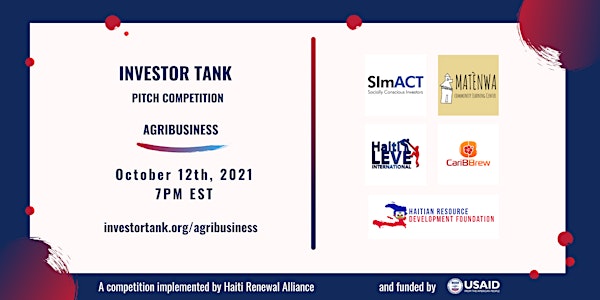 Investor Tank Pitch Event: Agribusiness
USAID - Investor Tank Pitch Competition: Agribusiness Category
About this event
USAID's Bureau of Humanitarian Affairs announces the finalists of its Diaspora Partnership Accelerator's Investor Tank Competition, funded by USAID and implemented in partnership with Haiti Renewal Alliance (HRA).
The selected projects offer innovative solutions to challenges in three Humanitarian Assistance (HA) sectors: Agribusiness, Health, and Shelter selected as a semifinalist from over 50 submissions received for this contest.
Congratulations! to the finalists and we look forward to their pitches during the live virtual Investor Tank events scheduled in October 2021.
For more details visit investortank.org/events
FINALISTS: