INVESTOR ONLY - 500 Demo Day (Batch 14)

Friday, October 30, 2015 from 12:00 PM to 6:00 PM (PDT)
Event Details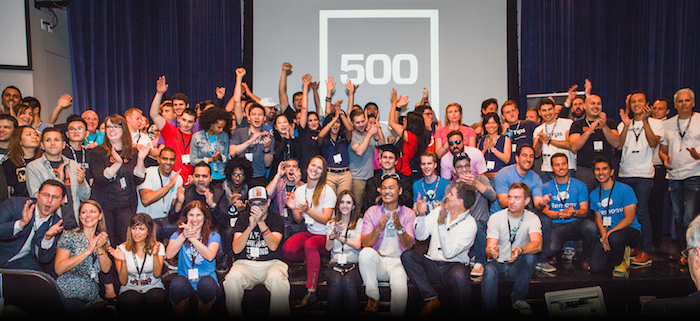 NOTE: Online Registration is over. We are accepting walk-in registration, if you are an active, accredited investor. All walk ins will be vetted at the door.
Note: This page may not render correctly on mobile.
To view the full startup lineup, visit the 

Demo Day

 website.
With 1,000+ Investments, 500 Startups Is:
BIGGER. BADDER. BETTER. 
Our Upcoming Demo Day Will Be, Too...
---
BATCH 14 COMPANY DEMOS > An invite-only event for 500+ active & accredited investors, Demo Day is a private viewing of our most recent 

accelerator startups

before they 'graduate'. Attendees will get a first look at the startups, meet the founders, and network with other top-tier investors, corporate strategics, & press.
BUT WAIT, THERE'S MOAR! 
POST-SEED COMPANY DEMOS >
We're adding an extra track of post-seed portfolio companies (Series A & beyond) to the Demo Day lineup. These companies represent the best of the best- expect solid KPIs and strong MoM growth.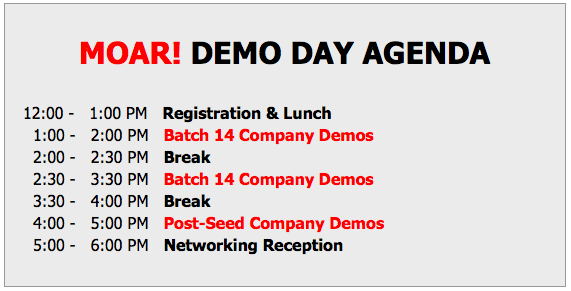 BATCH 14 COMPANY LINEUP:

Marketplace for custom event decorations and gifts 

Aircall

The easiest phone solution for teams

 
AutoLotto

Play the Powerball from your phone

AngelList

 

Baker

Online ordering and loyalty for cannabis customers

AngelList

 

 
Concert With Me

Marketing automation for concert promotion

AngelList

Decisive Health

Helps patients find healthcare facilities based on their insurance, schedule, and location

AngelList

 
Encore Alert

The smartest artificial intelligence marketing assistant you've ever had 

AngelList
GiftStarter

 Give gifts that they deserve, together

AngelList

 

Growbot

The slack bot for fast and easy feedback at work

AngelList

 
 

Kudobuzz
The simplest social review automation tool ever 




Lab Sensor Solutions, Inc. 

Ensuring medical materials quality during transport sensors as a service 

AngelList

 
MapJam

A next-generation map publishing platform- beautiful, personalized, and social 

AngelList

 

MonkeyLearn

Get actionable data from text using machine learning

 

Pacifica

Daily tools for stress  and anxiety

 
Pipefy 

The easy button for processes and workflows

 

Principly

The smart way to save for college

 

RemitBee

Mobile and online money transfer with a personal touch  

AngelList

 
Saint Harridan

Masculine clothing for women and transmen

AngelList

 

Sajilni 

Event management and e-ticketing platform for the Middle East 

AngelList

 

StackShare
See all the best SaaS and who's using it

Stamplay

Lego for developers to build Rome in a day

AngelList

 

StreetHawk 

Use your most valuable app users to acquire more just like them 

AngelList

 
TopHatch

Creativity beyond the desktop

 

TruckTrack 

Easy, powerful trucking business management 

 
 

 

 

YOU-app 

Self-improvement through small steps  

 

 

ZendyHealth Empowers patients to take control of healthcare costs by allowing them to bid on standardized medical and dental procedures with a resulting match to a top provider with excess capacity 
  

AngelList
PRESENTING POST-SEED COMPANIES:
The best way to communicate for couples 

Dealflicks

Priceline for movie tickets

AngelList

 
iMoney

Southeast Asia's largest financial services marketplace

AngelList

 
Italist

Largest marketplace for Italian luxury boutiques

AngelList
Red Tricycle

Fueling the parenting universe with daily inspiration for family fun

AngelList
WANNA GET INVOLVED? OTHER 
Q's? 
If you'd like to 
sponsor, volunteer or ask questions, email
 cristina at 500 dot co.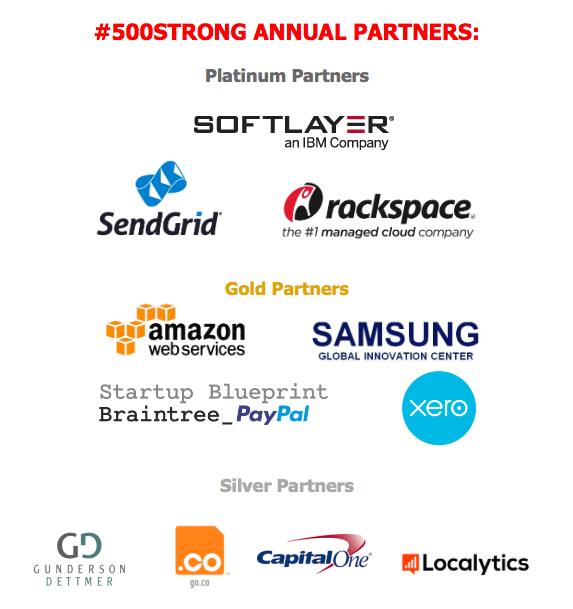 Organizer
500 Startups
500 Startups is a global venture capital seed fund with a network of startup programs headquartered in Silicon Valley with over $330M in committed capital across 4 main funds and 13 micro funds. We have invested in 1,800 technology startups all over the world since our inception in 2010 including: Twilio (NYSE: TWLO), Credit Karma, Grab, Udemy, Ipsy, Talkdesk (acq'd by Marketo), Intercom, MakerBot (acq'd by SSYS), Wildfire (acq'd by GOOG), and Viki (acq'd by Rakuten). We are #500STRONG.

Connect With Us: 
Facebook | Instagram | Plancast | Twitter | Web 
INVESTOR ONLY - 500 Demo Day (Batch 14)