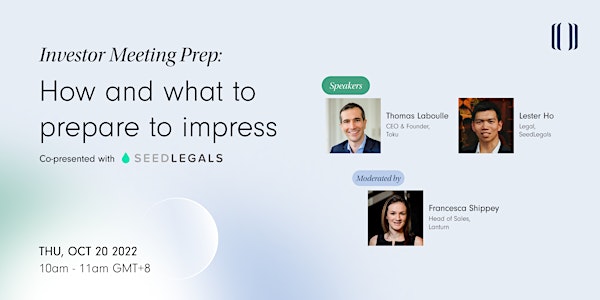 Investor Meeting Prep: How and what to prepare to impress
Learn what and how to prepare for your next investor meeting to give you the best chance of getting the investment you're looking for.
About this event
Investors see hundreds, if not thousands, of pitch decks every year. If you've secured their interest with your initial pitch, the next big hurdle is the investor meeting. Join Toku's CEO and Founder Thomas Laboulle and SeedLegals' Lester Ho as they share insights on what investors want to hear in your investment meeting, and what to prepare to give yourself the best chance at securing the investment you're looking for.
About the speakers
Thomas Laboulle
Founder & CEO, Toku
Thomas is the founder and CEO of Toku, APAC's only dedicated cloud communications provider helping businesses navigate digital transformation and enhance customer experience.
His career started in the Belgian military, which shaped his bold and decisive leadership style over the next decade at the helm of consultancy and tech firms in the private sector, which included Mundito, a consultancy firm he founded in 2012, and GlobalRoam, a Singaporean telco operator he led and restructured as CEO.
Today, Thomas is the driving force behind Toku's expansion.
Lester Ho
Legal, SeedLegals
Equal parts lawyer and techie.
Lester puts law and code together to remove the transactional frictions in the funding process that startups often experience.
Prior to joining SeedLegals, Lester was an associate with Dechert LLP and Allen & Gledhill LLP where his practice focused on private equity and venture capital transactions across various sectors. I helped investors and startup founders navigate the complexities and nuances of the fundraising process, which was often unnecessarily difficult and painful for both sides.
Prior to that, Lester was a law clerk with the Singapore Supreme Court. I received my LLB (First Class) in 2016 from the National University of Singapore, where he graduated as the valedictorian of my class. He received my BCL (Distinction) from the University of Oxford in 2021.
Lester is a self-taught coder. I am qualified in Singapore and am in the process of seeking qualification as a solicitor in England and Wales.
This session is moderated by Francesca Shippey, Head of Sales at Lanturn.
Francesca has over 6 years of experience working in the corporate services industry. Francesca joined Lanturn in 2021 and now leads the Sales Team across Corporate and Fund services. Francesca has lived in Singapore for over 15 years and has a Master of Business Administration degree.