Investor Connect @ Cleantech Open Western Region Awards & Innovation Showca...
Description
Join us for Investor Connect from 3-5p on the afternoon of Monday, October 16th.
INVESTOR CONNECT - build your pipeline and gain insight into emerging trends!
Investor Connect is our speed-dating event focused on connecting you - the Cleantech Investor - to cleantech startups from our 2017 cohort and Western Region alumni community. The event has two parts:
(1) pre-matched, structured Investor-Startup "speed dating": As a participant, you'll receive a tailored "dance card" with the names of startups we've matched you to. You'll have 7 minutes with each startup on your card, for a total of 8-12 introductions in rapid succession.
(2) dynamic "open floor" in which startups approach investors not yet included on their dance cards. As an investor, you'll have the opportunity to meet additional companies that have opted to meet you.
PLEASE REGISTER before Monday, October 1st. Your early registration will give us the opportunity to match you with the startups that best fit your investment focus.
Investor Connect features:
40+ early to growth stage startups in a wide range of cleantech verticals: from clean energy, through green building, to advanced materials, clean water / air / waste, ag-tech, and communication technologies.
30+ investors interested in the cleantech investing, including angel, corporate, family office, and venture investors.
Connections, insights, and investment opportunities – an efficient and high-value use of your time!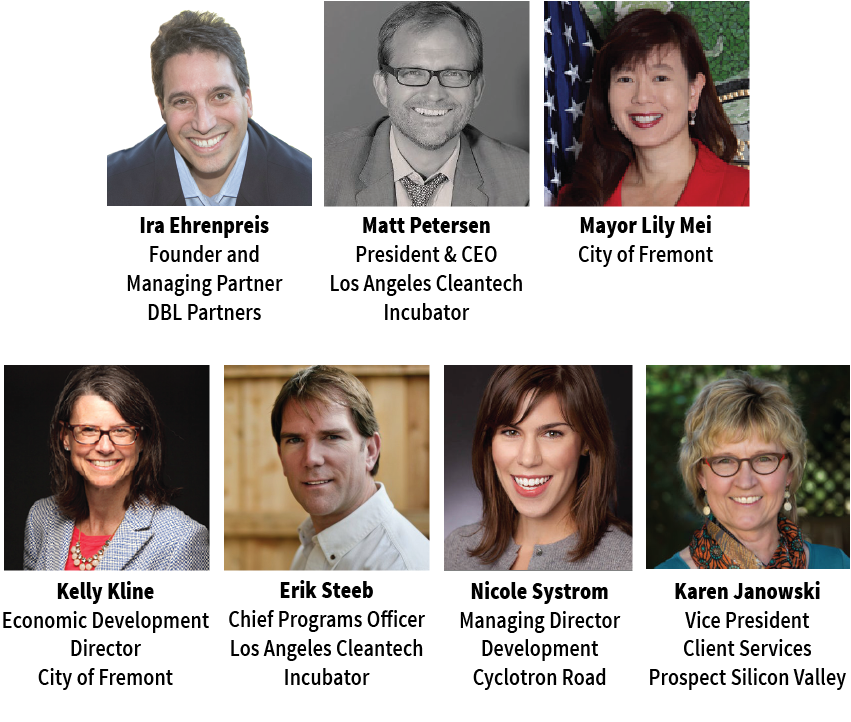 AWARDS PROGRAM - Celebrate our 2017 Cohort and gain insights into cleantech commercialization
Our Investor Connect is part of a larger program aimed at showcasing our Western Region startups:
On Monday, October 16th, we'll hold a series of closed-door events, including Regional Judging, an Investor Connect, and a VIP Reception hosted by the city of Fremont.
On Tuesday, October 17th, we open the doors to the broader Cleantech commercialization support community and to the public for an Innovation Showcase in the morning followed by our annual Awards Celebration, including a formal speaker program, a plated lunch, and an Academy Awards style ceremony to honor members of our 2017 cohort.
Join us for just Monday's Investor Connect and VIP Reception, or both for Monday and for Tuesday's public events. See ticket options for each below.
VIP NETWORKING RECEPTION - Connect with Cleantech Open's network in the West
As a participant in Investor Connect, you are welcome to join us at our VIP networking reception from 6:00-7:30p, hosted by the City of Fremont at the Fremont Marriott Silicon Valley. Connect with peer investors, startups, regional judges, and members of the Cleantech Open community - partners, sponsors, officials from the City of Fremont, and Cleantech Open staff.