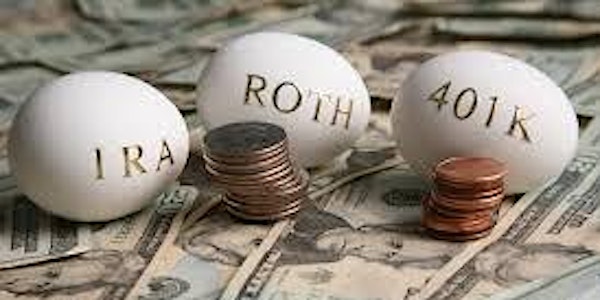 Investment Seminar Series
By North Carolina Center of Innovation Network (NC COIN)
Date and time
Wednesday, August 24, 2016 · 10 - 11:30am EDT
Location
The Frontier 800 Park Offices Drive Triangle, NC 27709
Refund Policy
Contact the organizer to request a refund.
Description
NC COIN Presents: The Importance of Retirement Investing
Come and enjoy this casual, but informative Investment Series with us!
Sponsored by Divvy Investments
Please join us for our four-session investment series (see schedule below) designed to provide entrepreneurs, individuals and businesses engaged in their own financial futures as well as seasoned business executives wanting to offer additional help to their employees with basic financial information regarding a number of topics including:


1. Finance Basics - What is 401k? Why is it important? What are the fees? Discuss the emotions behind finance (Special Guest Speaker: Elle Martinez, Personal Finance Blogger and Podcaster of Couplemoney.com)
2. Robo vs human - What is the best option for my future?
3. Owner/Operator - Freelancers, What are stock options?
4. What can I do to get prepared? - Includes budget exercise and assessing when a retiree should start taking social security
The financial services industry as a whole has done a tremendous job confusing investors and advisors alike. Currently, there are a lot of really smart people who want to create investment portfolios on their own. These people, even though they are really smart, often spend way too much time monitoring portfolios because they either don't know where to begin or they get confused by information overload.
The goal of this series is to provide attendees with a solid baseline of knowledge to enhance and improve their personal retirement investments and take charge of their future. Attendees will learn the tools needed to build a proper foundation for their financial future and retirement that will prevent future frustration.


Simplify Your Investments Strategy Today: There are a lot of people that don't want to hire a high priced financial advisor (for a variety of reasons). They want to be do-it-yourself investors. Unfortunately, there is so much information out there that often times people don't know where to begin or get caught up in information overload. Investing for retirement doesn't have to be complicated, but it should be done right.


The seminar series will be led by Nick Bradfield, a Marine veteran and graduate of Northwestern University with a Masters in Predictive Analytics. He started his career in financial services as a financial advisor with a large brokerage firm. Through this experience, he found an interest in helping people minimize fees via index funds/ETFs - and soon, the idea for Divvy Investments was born. The series will also include special guest speakers to provide additional insight and expertise.
Please come join COIN and Divvy Investments in this informative seminar series.
Schedule:
August 24th 10:00- 11:30 Finance Basics
August 31st 10:00- - 11:30 Robo vs human
September 7th 10:00 - 11:30 Owner/Operator
September 14th 10:00 - 11:30 What can I do to get prepared?
About the organizer
NC COIN is an inclusive member network comprised of entrepreneurs and large corporations, students, business leaders, product developers and technologists. We have researchers looking for investors, and investors in search of ideas. NC COIN brings together North Carolina's vital biotech, agriculture and nanobiotechnology communities, and enables them to interconnect and collaborate with one another in powerful ways.