INVESTMENT REVOLUTION - MARY BUFFETT LIVE IN MANILA

Sunday, November 5, 2017 from 8:00 AM to 9:00 PM (Philippine Standard Time Philippines Time)
Event Details

Do you invest in the stock market?
Would you like to learn how Warren Buffett invests?
THIS IS YOUR CHANCE!
Discover Warren Buffett's winning investment strategies from MARY BUFFETT, the bestselling author of "Buffettology", "The Tao of Warren Buffett", and "Warren Buffett Stock Portfolio"! Mary has worked side-by-side with Warren for 12 years and she can share with YOU how to invest the "Warren Buffett way"!
 -------------------
Join our National Achievers Congress 2017 on
05 November 2017 and be part of the INVESTMENT REVOLUTION!
----------



NACPH is a 1-day seminar that features the brightest business minds in the world, gathered in one stage so they could share best practices in their respective fields of expertise that can be modeled and replicated by everyone. It provides a global platform to support individuals, enterprises, and organizations through personal education to elevate financial success.
----------------

This year's NACPH Keynote Speaker is MARY BUFFETT – author of the bestselling books Buffettology and The Tao of Warren Buffett – she will share how to effectively apply Warren Buffett's investment strategies. Aside from being a best-selling author, Ms. Buffett is also an international speaker, entrepreneur, political and environmental activist. Her first book Buffettology, co-written with David Clark in 1997, was an immediate New York Times and Business Week best-seller. Since that time, all seven of her books have been best-sellers. She appears regularly on television as one of the top finance experts in America including CNN Business News, CNBC's Squawk Box, Power Lunch with Bill Griffith, Bloomberg News, Fox Business News, MSNBC's Headliners and Legends, and BBC News.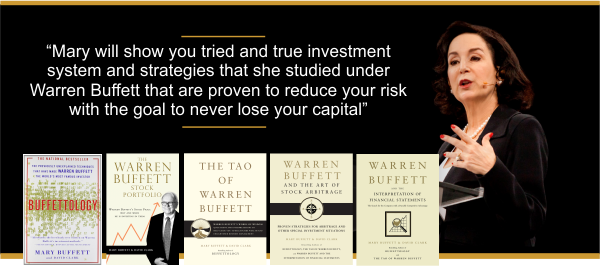 Joining Mary are renowned speakers, business icons, and self-made millionaires who will also share their expertise and investment practices to motivate the participants in their own quest for financial freedom: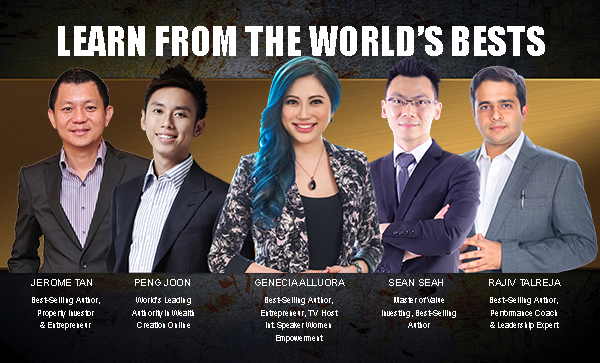 Peng Joon is the World's Leading Authority on Online Wealth Creation. In 2009, he launched Farmville Secrets, an online gaming guide that generated over US$1.3 million in less than 8 months. Today, he is dedicated to enabling people to take their passion and life experiences, and turn them into a product that is profitable on the internet.
Sean Seah is the "Master of Value Investing" and also known as "Asia's Buffettologist". He is personally mentored by Mary Buffett to learn the Buffett's investment system. He has since mastered it and has taught thousands of individuals to make consistent income on the spot. He is frequently asked to give his investment insights on national radio, papers, and magazines.
Gerry Robert is a bestselling author, mentor, and international speaker. He is the founder and publisher at Black Card Books, one of the fastest growing publishers in the world based upon title acquisitions.
Jerome Tan is a serial entrepreneur, investor and author of the bestseller "From Bankruptcy to Multi-Millions in 7 Years". He owns hundreds of properties around the world, including the Philippines, with little to no money.
Rajiv Talreja is an entrepreneur, international speaker, and leadership expert. He is India's leading business coach and author of the international bestseller book "Lead or Bleed – How Entrepreneurs and Corporate Leaders Can Stop Fire-Fighting and Start Accelerating Performance and Profits".
Genecia Alluora is a leading female entrepreneur and former Miss Singapore. As founder of Soul Rich Woman, South East Asia's leading network for female entrepreneurs, she has connected over 10,000 women across the region empowering them to succeed in life, business, and health.
Your best opportunity to interact and learn from world-class experts in business and investing is here at the NACPH. This seminar is for everyone: a start-up or a seasoned entrepreneur looking for an alternative direction or a professional practicing full-time job but is seeking for an additional stream of income. The organizers, Laurus Enterprises and Success Resources, together with its co-presenters, sponsors, and marketing partners, invite you to be part of the investment revolution on 05 November 2017 at SMX Mall of Asia in Pasay City!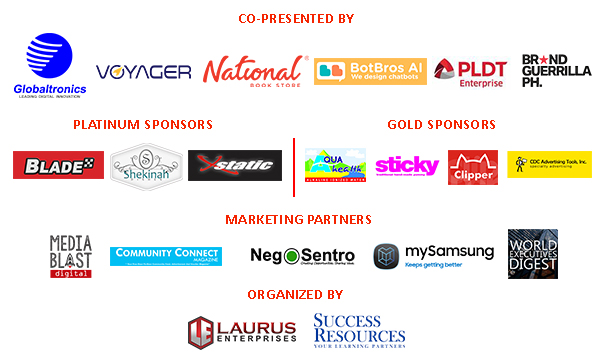 For more details, contact:
(0917) 1457787 / (0939) 9340788
(02) 9591874
www.nac.com.ph
When & Where

SMX Convention Center
Seashell Lane
Pasay, NCR 1300
Philippines

Sunday, November 5, 2017 from 8:00 AM to 9:00 PM (Philippine Standard Time Philippines Time)
Add to my calendar
Organizer
Established in 2003, Laurus Enterprises (LAURUS) is an events company that focuses on providing workshops and seminars related to business, personal finance, personal growth, and professional development. It is the official partner of Rich Dad Training (S.E.A.) Pte. Ltd. and the exclusive organizer of Cashflow101 Workshop and other related Rich Dad activities in the Philippines since 2005.
On March 2015, LAURUS obtained the privilege to be the Strategic Partner of Success Resources Pte. Ltd. in the Philippines. This partnership gave LAURUS invaluable opportunity to bring to the Philippines internationally-recognized events such as T. Harv Eker's Millionaire Mind Intensive and the National Achievers Congress. Along with these events, LAURUS also brought internationally-acclaimed motivational trainers, speakers, and authors to the country such as Peng Joon, Robert Riopel, Doug Nelson, Richard Duncan, Bellum Tan, Kevin Green, Gerry Robert, Sean Seah, Andrew Matthews, Jerome Tan, Chris Gardner, Mary Buffett, and Robert Kiyosaki.
And in November 2016, LAURUS also became the Official Partner of Rhemaworks International Pte. Ltd. of Christine Foong-Wong. Thus, enabling LAURUS to provide the Harrison Assessments and to offer coaching services and therapy based on Identity Theory by Professor Franz Ruppert of Germany. LAURUS and Rhemaworks assist clients to gain clarity and look for an intervention method to effectively support them in their current mental, psychological, emotional & physical health as well as relational and personal issues.