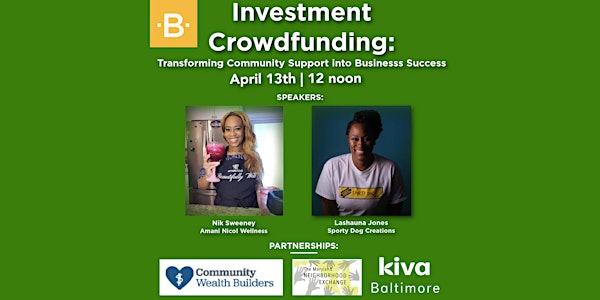 Investment Crowdfunding: Transform Community Support into Business Success
A deep dive into crowdfunding for local entrepreneurs to learn how their network can help them gain funding, find new customers, and expand!
About this event
Looking for funding for your small business? Have a community that believes in you?
Join Baltimore Corps and Community Wealth Builders for a lunch and learn as they explore a new tool to fund your business: Investment Crowdfunding! Start turning your network into your net worth by funding your business using the power of your community and growing your fan base, customers, promoters, and investors. Hear from local entrepreneurs Nik Sweeney and Lashauna Jones as they talk about their experiences crowdfunding to expand their businesses in Baltimore and chat with us to get your questions answered from our team of experts!
Need a local lunch suggestion? Register to receive 15% off your next order from Sporty Dog Creations! Pick up a pack to cook and enjoy at home during the event or visit their storefront on your own time to try their fresh, gourmet hot dogs.
Stick around until the end to try and win a special gift from Nik and Lashauna...
Hosted in Partnership By:
Baltimore Corps' Kiva Baltimore service offers zero-percent-interest, zero-fee business loans of up to $15,000 for entrepreneurs in Baltimore looking to grow their business.
Need more than $15,000 to support your business' launch or growth? Community Wealth Builders operates the MD Neighborhood Exchange, which facilitates grassroots investing in the state's most promising local and minority-owned businesses.
We will be hosting this session online and access to the session will be sent to those who register.