Description
Event Times:
Session 1: Wednesday 12/06/2017, 6:30-9:30pm

Session 2: Wednesday, 12/13/2017, 6:30-9:30pm
Session 3: CHANGED Monday, 12/18/2017, 6:30-9:30pm (Testing)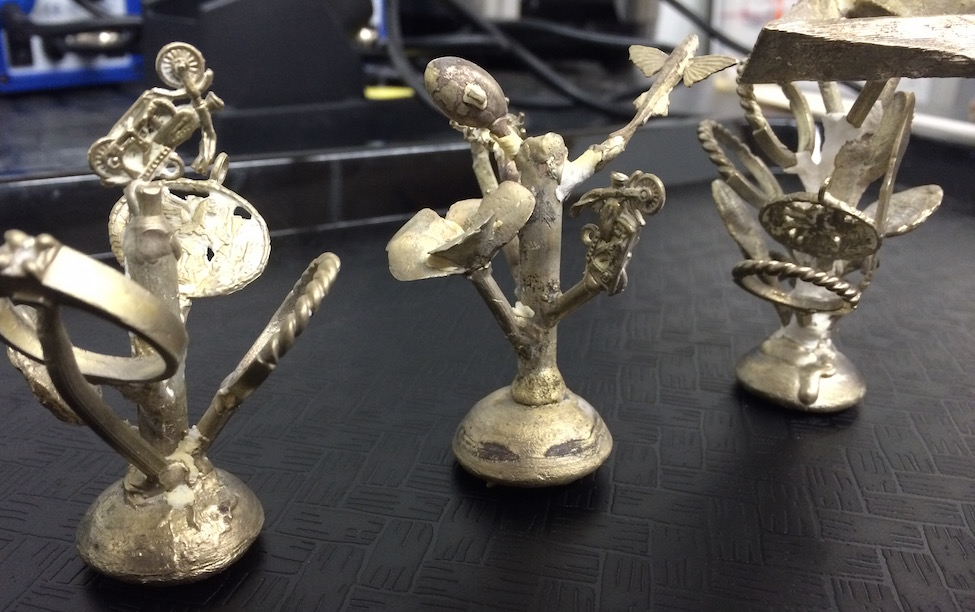 Description:
Investment Casting is the art of casting a metal part from a master model which is destroyed in the process. Check out a video about the process in our very own shop as seen on Tested with Adam Savage!
This three-session class is designed to introduce students to the art of investment casting using the equipment in the Artisan's Asylum casting shop.
Students will learn the process of investment casting by taking an instructor-supplied model made of 3D printed PLA or wax and casting it in aluminum or brass. The class will start with model preparation, attaching sprues, investing the model and removing the model to create a mold. In the next class students will pour the metal into their mold, deinvest and retrieve the metal part. The process is repeated in a second cast as a test for independent use of the shop. A brief overview of moldmaking equipment is included, plus a short tutorial on finishing techniques for cast pieces.

Class Goals:
The goal of this class will be to train a student to the point where they can safely use the equipment in the Artisan's Asylum Casting Shop with a partner.
Prerequisites:
Students must be at least 18 years of age.
Materials:
All materials for the class are provided. Students should wear boots or closed-toed shoes as well as a heavy-duty long sleeved shirt, such as flannel or a heavy work shirt and long pants. Information for students interested acquiring any equipment of your own will be covered in class.


Instructor Biography:

Karen Burke trained as a goldsmith at the Revere Academy, but her work ranges much wider than that might suggest – from titanium chainmail to bronze sculpture, gold wedding rings to scrap tallbikes, tiny silver earrings to steel furniture and stage frames. She works and teaches out of Artisan's Asylum, and has a weakness for old tools and scrap metal bins.