Description
Event Times:
Session 1: Sunday, 4/9/17, 6-9pm

Session 2: Sunday, 4/16/17, 6-9pm
Session 3: Sunday, 4/23/17, 6-9pm (Testing)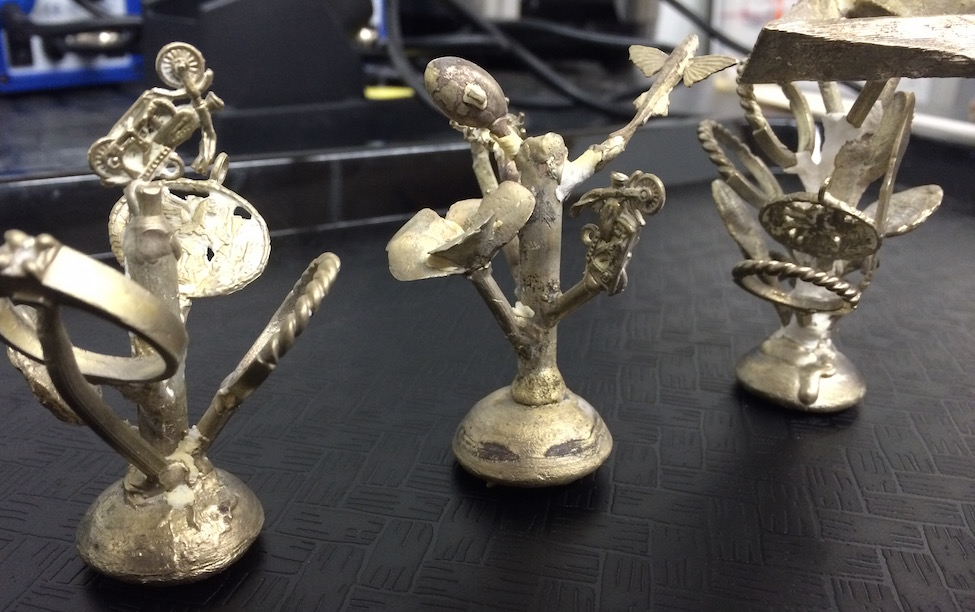 Description:
Investment Casting is the art of casting a metal part from a master model which is destroyed in the process.
This 3 day class is designed to introduce students to the art of investment casting using the equipment in the Artisan's Asylum Casting Shop.
Students will learn the process of investment casting by taking an instructor-supplied model made of 3D printed PLA or wax and casting it in aluminum or brass. The class will start with model preparation, attaching sprues, investing the model and removing the model to create a mold. In the next class students will pour the metal into their mold, deinvest and retrieve the metal part. Following the class the students can schedule a testing session with another instructor to demonstate that they can safely use the equipment on their own.
Class Goals:
The goal of this class will be to train a student to the point where they can safely use the equipment in the Artisan's Asylum Casting Shop with a partner.
Prerequisites:
Students must be at least 18 years of age.
Materials:
All materials for the class are provided. Students should wear boots or closed-toed shoes as well as a heavy-duty long sleeved shirt, such as flannel or a heavy work shirt and long pants. Information for students interested acquiring any equipment of your own will be covered in class.


Instructor Biography:

Karen Burke is a professional jeweler and metalsmith who works and teaches out of the Hot Crafts Studio at Artisan's Asylum. Working in a wide range of metals, she takes a special interest in metallurgy and repairs, and builds strange bikes to relax.