Description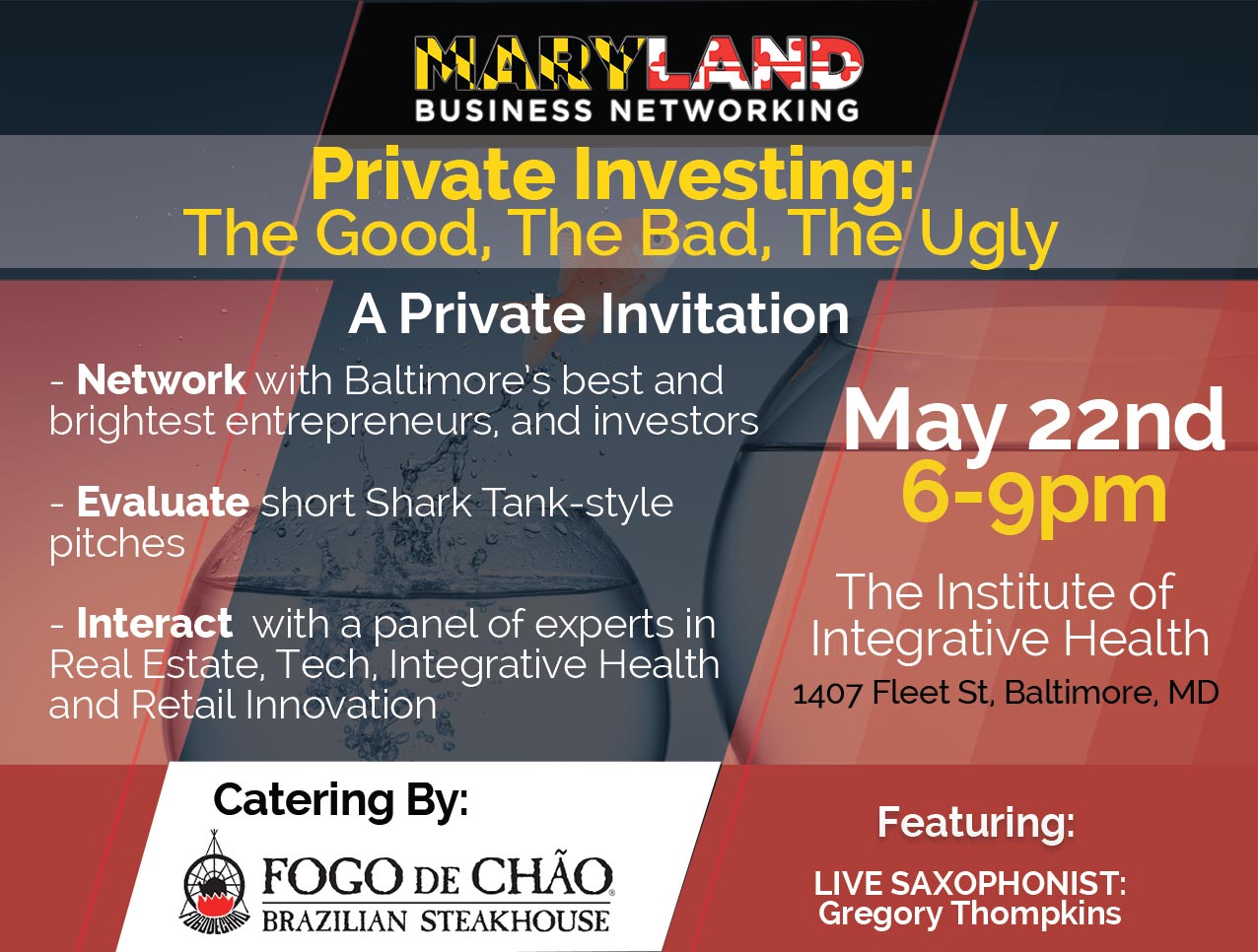 PLEASE REGISTER WITH YOUR NAME, TITLE & CONTACT INFORMATION FOR FOLLOW UP.
Join Maryland Business Networking's Featured investment event at The Institute of Integrative Health (https://tiih.org/ ) in the Harbor East/Fells area.
MBN is bringing together owners, operators, and investors across Real Estate, Tech Startups, Retail Brick & Mortar Operations, and Health & Medicine on May 22.
If you are a seasoned investor within he Mid Atlantic Region and local Baltimore Business Community or you are wondering if you have what it takes to invest, this would be a great event for you to learn. It is from 6 to 9 pm, catered by Fogo De Chao with Open Bar, desserts, Jazz Music, and focused networking.
We anticipate a great group of people including Brian and Sue Berman, the Institute of Integrative Health, Kwame Kuadey (Shark Tank Winner)
We will be providing spots for 3 companies to pitch to the panel for a short portion of the event, then a Q&A with the panel on Investing (The Good, The Bad & The Ugly of Investing). Please reach out if you would like your company to be considered. The Pitches and Panel of investors will be moderated by Shark Tank Winner Kwame Kuadey. He will be joined by a few other investors on the panel discussion on Investing.
Brian Berman, MD, is a tenured professor of family and community medicine, director of the University of Maryland School of Medicine's Center for Integrative Medicine and president and founder of the Institute of Integrative Health. He will open the meeting giving us some background on integrative health and the Institute. https://tiih.org/who/people/staff/brian-berman/.
LOCATION
The Institute for Integrative Health, 1407 Fleet Street Baltimore, MD 21231
Harbor East Parking Available at Fleet and Eden Street Garage for $4 (1 block away)
MUSIC & FOOD
Live jazz by saxophonist Gregory Thompkins
Catered and Open bar by Fogo de Chao
TIMELINE
6:00 - 6:50 -- Networking (Food and drinks)
6:50 - 7:00 -- Move group to a room
7:00 -- Welcome Address MBN and core companies welcome
7:05 -- Brian Berman of TIIH
7:10 -- Introduction of the Investor Panel
7:15 -- Pitch #1
7:20 -- Pitch #2
7:25 -- Pitch #3
7:30 -- Announce Pitch winner - decided by the panel (pitch with the most investors interested wins)
7:35 - 8:00 -- Networking Break (Food and Drinks)
8:00 - 8:30 -- Investor Panel (4) questions with 5 minutes each with 10 minutes for questions from the audience
8:30 - 9:00 -- Networking (Possible dessert and coffee)
Panelist
Neil Katz (Panelist)
A commercial real estate broker and investor, business owner, community activist and entrepreneur".
Kwame Kuadey (Moderator)
Recognized as an authority on startups and entrepreneurship, Kwame has been featured in The Wall Street Journal, Washington Post, Entrepreneur, Inc. Magazine, NPR, and Forbes. He was named to Baltimore Business Journal's 40 under 40 list in 2014 and is a 2014 winner of the prestigious EY Entrepreneur of The Year Award in Maryland.
Ahmed BenDebbay (Panelist)
Currently the Senior Manager at TellusPoint.com, A Commercial Real Estate Investment Firm. Well versed and skilled in identifying areas for improvement in sales and marketing. Quality assurance. Revenue enhancement. establishment and implementation of unique CRM programs. Development of marketing and sales systems.
Support and advocacy for emerging minority companies. Expertise in Commercial real estate including property management, leasing, and sales, Healthcare ambulatory services including home care, home infusion, and related services.
SPONSORS
Sponsors:
M&T
Snazzy Jazzy's Ellie Pieper
Fogo de Chao
Hyatt Baltimore
DAASN
Tellus Point
The Institute of Integrative Health