Sales Have Ended
Registrations are closed
Thanks so much for your interest! Check out www.socap365.com for more conversations on money & meaning near you.
Sales Have Ended
Registrations are closed
Thanks so much for your interest! Check out www.socap365.com for more conversations on money & meaning near you.
Description
Philanthropists and policy-makers are widely considered to be the primary drivers of community well-being. However, over the last decade, we have seen a much more diverse group of actors developing solutions for issues like economic inequality and climate change, including entrepreneurs, corporations, and investors. The ability to leverage the creative talent, resources, and capital of the private sector has fostered new partnerships with non-profit and government, and created enormous enthusiasm about the potential to scale sustainable solutions for society at large.
How can the Central Texas funding community build on this experience to strengthen its own efforts to most effectively utilize capital across the region to spur change? What strategies are underway, what are the gaps, and what do we still need to try?
Join us for an evening of bold conversation, new thinking, and community of allies and peers at this evening panel discussion, followed by drinks and networking.
About the Presenters:
This is the first of several events that SOCAP 365 and Impact Hub Austin are collaborating on throughout 2018 to highlight efforts and uplift voices across Austin at the intersection of money and meaning.
At the first event in the series, Impact Hub Austin is working with the Design Thinking Social ATX, a community of primarily tech & startup professionals that are committed to addressing diversity in the ecosystem through design thinking practices.
Sponsorship opportunities are available across the "Building Markets for Impact" event series in Austin. For more information, please contact liz@socialcapitalmarkets.net
Event Flow:
5:30pm: Doors & Check-In
6:00pm: Panel & Q+A
7:15pm: Networking
9:00pm: You don't have to go home but you can't stay here!

---
Speakers
Amy Bell - Tideline (moderator)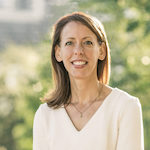 Amy Bell is a Senior Director for Tideline, a consulting firm that provides tailored advice to clients developing impact investment strategies, products, and solutions. Amy joined Tideline in 2016 and lends her experience as an impact investor with a focus on strategy, research, and analysis. Since joining, she has led client engagements in global health and affordable housing for large private foundations as well as a project focused
on smallholder agriculture for a major international development finance institution.
Prior to her current role, Amy was Executive Director and Head of Principal Investments for the Sustainable Finance business unit of JPMorgan Chase. In this role, Amy managed a $100 million portfolio of investments in businesses benefiting low-income and underserved populations. In her last year with the firm, she lived and worked in Costa Rica with EcoEnterprises Fund, supporting their work to grow businesses that
drive conservation outcomes and improve rural livelihoods.
Before her work in Sustainable Finance, Amy worked in JPMorgan's Investment Bank as part of the Mergers & Acquisitions and Consumer & Retail Coverage groups. She also worked as a consultant for Deloitte in the Dispute & Forensics Service group.
Amy sits on the Board of WaterEquity (an affiliate of Water.org) and Urban Roots, an Austin-based youth development organization. Amy holds a Masters in Professional Accounting and a BBA in Business Honors and Accounting, both from the University of Texas at Austin.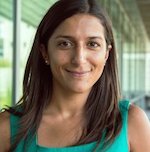 Hanna Jamal is an Associate Director at Social Finance, a nonprofit organization that works with governments, nonprofits, and private funders to design, develop and manage Pay for Success projects. Her work includes leading the development of Social Impact Bonds to address chronic homelessness in Austin, Travis County and improve outcomes for Veterans with PTSD in New York and Massachusetts. As one of the founding members of Social Finance's Texas office, she works with partners locally to explore the use of impact investing and outcomes-based financing to drive social change. Prior to joining Social Finance, Hanna spent five years working in international development with Plan International, where she managed the implementation of USAID-funded education programs in West Africa and Haiti. Since moving to Austin in 2013, she has worked with a variety of organizations focused on impact investing and social innovation including Acumen, Urban Co-Lab, UnLtdUSA, and Médecins Sans Frontières. Hanna holds an MBA from the McCombs School of Business at the University of Texas at Austin and an MA in Anthropology from the University of Edinburgh in Scotland.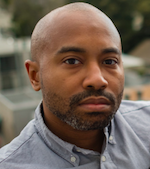 Clayton has over 12 years of experience in the tech space. Initially working as a marketer, he transitioned into business development, and over the past 3 years has worked in venture capital. Currently, as a Venture Partner at 500 Startups in San Francisco, Clayton is focused on the media, e-commerce, and communication spaces. Clayton is also one of the co-founders of the Transparent Collective, a non-profit launched to help founders of color connect with investors and mentors. Prior to returning back to the Bay Area, as a member of the Dorm Room Fund team in New York, Clayton worked with and invested in some of the best and brightest student-founded startups on the east coast.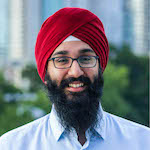 Darsh Singh is the co-founder and the Chief Investment Officer of Hazoor Partners. Previously, he served as Portfolio Manager and Investment Committee Member at Satori Capital, a specialized alternative investment firm based in Texas. There, Mr. Singh's primary role was to build the Satori Alpha platform, where he was responsible for sourcing, diligence, and structuring seed and acceleration investments with emerging managers in niche markets. Prior to that, he served as a civilian and contract worker for the National Security Agency, where he worked in signals intelligence, developing and testing various tools.
Mr. Singh received an M.S. in Financial Mathematics from John Hopkins University and a B.S. in Engineering Science from Trinity University, where hewas also captain of the NCAA basketball team. His jersey has been featured in the Smithsonian National Museum of National History. He is currently a mentor for the Techstars Impact program.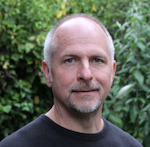 Scott began his career as an aerospace engineer with Northrop Grumman but transitioned to venture capital when several projects failed to get off the ground. After 20 years managing venture investments for financial return he discovered blended value investing, a precursor to impact investing, by way of a couple clean energy investments and reading the works of impact investment pioneers Adam Smith, Jed Emerson and Woody Tasch. Scott has since devoted considerable time to social impact investment projects including Sustainable Texas Investment Club, Community Foods Market, SOIL Network of California, and Rockroom Winemaking Cooperative. Scott now oversees venture investing and lending at Whole Foods Market and looks forward to the day when all investing is recognized as blended values investing.
---
Presented by: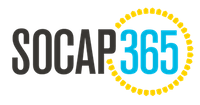 An ongoing event series, SOCAP 365 features world-class speakers and opportunities to connect at the intersection of money and meaning. Through thought leadership panel discussions, inclusive dialogues, and community-building events, SOCAP 365 serves the rapidly growing network of impact investors, social entrepreneurs, conscious corporations, philanthropists, government agencies, and innovators in every sector. Whether you're a long-time SOCAP attendee or relatively new and curious about the field, SOCAP 365 is a chance to plug-in locally with like-minded peers committed to accelerating the flow of capital toward global good.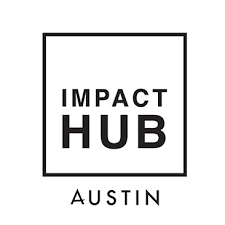 Impact Hub Austin offers co-working, shared workspace, private offices, dedicated desks, events and programs that connect the Austin community to a global movement for good. What began as a collaborative conversation between the founders of Vuka, Center61 and a group of inspired people, has become the first Impact Hub in Texas, strategically located in Austin. The global community of Impact Hubs worldwide includes more than 80 locations and 11,000 members across 50 countries. Each Impact Hub is a local community of participants connected by the shared goal of using business and entrepreneurship as a tool to drive positive change. For-profit and non-profit, entrepreneurs, activists, creatives, and professionals are all welcome to set the standard for Austin's next generation of purpose-based enterprises.
Sponsorship opportunities are available across the "Building Markets for Impact" event series in Austin. For more information, please contact liz@socialcapitalmarkets.net