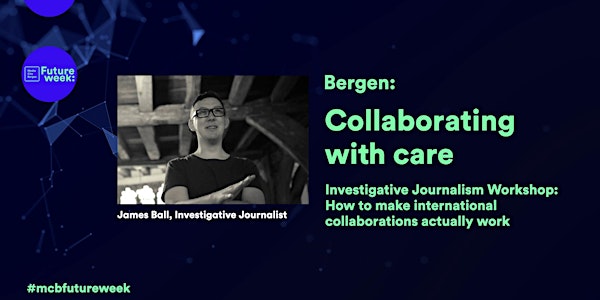 Investigative Journalism: Collaborating with care
How to make international collaborations actually work.
Date and time
Tuesday, September 28, 2021 · 10am - 12pm CEST
Location
Media City Bergen Media Lab Lars Hilles gate 30 Tower 3, 9th floor 5008 Bergen Norway
Refund Policy
Contact the organizer to request a refund.
About this event
OPEN TO ALL - FREE FOR MEDIA CLUSTER MEMBERS.
Cross-border collaborations are the journalism of the future: they improve reach, they improve impact, and they can change the world. But actually doing them is difficult: people have different ways of working, different audiences, different needs, and different cultures. In this interactive workshop, James Ball will lead a discussion on the practicalities of actually making collaboration across countries effective and enjoyable.
James Ball is the global editor of The Bureau of Investigative Journalism, where he oversees the not-for-profit's international reporting projects. He is also a member of ICIJ, the International Consortium of Investigative Journalists.
He was previously a special correspondent at BuzzFeed UK and special projects editor at The Guardian, where he played a key role in the Pulitzer Prize-winning coverage of the NSA leaks by Edward Snowden, as well as the offshore leaks, HSBC Files, Reading the Riots, and Keep it in the Ground projects.
James is the author of multiple books, including "Post-Truth and "Bluffocracy". His newest book, "The System: who owns the internet and how it owns us" was published in August 2020.
The registration is binding. If you are unable to attend the workshop, it is important to let us know in advance. You can make a cancellation up to 24 hours prior to the event. Once this deadline has passed you will be invoiced a cancellation fee of NOK 500 for not attending.
Contact us at event@ncemedia.no if you have any questions, and we will be happy to assist.
About the organizer
The Norwegian Media Cluster is a world ­leader in ­augmented ­reality, graphics, visuali­zation, ­digitalization, broadcast, tele­vision technology and tools for digital storytelling. 
Large parts of the Norwegian Media Cluster are located in Media City Bergen, a leading, international hub for media and technology innovation, with the Media Lab and a startup lab forming the core of the innovation and research projects for the cluster and cluster partners.