Description
My name is Chris Sanders, and I'm a security analyst.
When I first started out, learning how to investigate threats was challenging because there was no formal training available. Even in modern security teams today, most training is centered around specific tools and centers too much around on the job training. It wasn't hard to learn how to use the tools, but I struggled knowing when to use them and what to look for. It wasn't that I didn't have enough data…I was overwhelmed by it.
What was I lacking? I knew plenty of people who were good at this — what skill did they possess that I did not?
A major problem working in a new field is that much of the knowledge needed to perform the job is tacit — it isn't written down. That's why so much learning that happens on the job mostly focuses on just sitting and watching others do it. We can do better.
When security analysis finally began to "click" for me I resolved not just to be good at catching bad guys — I wanted to help others who are going down the same path by developing a course dedicated to both the theory and practice of the investigation process.
Introducing…

About the Course
If you're a security analyst responsible for investigating alerts, performing forensics, or responding to incidents then this is the course that will help you gain a deep understanding how to most effectively catch bad guys and kick them out of your network. Investigation Theory is designed to help you overcome the challenges commonly associated finding and catching bad guys.
I've got so many alerts to investigate and I'm not sure how to get through them quickly.

I keep getting overwhelmed by the amount of information I have to work with an investigation.

I'm constantly running into dead ends and getting stuck. I'm afraid I'm missing something.

I want to get started threat hunting, but I'm not sure how.

I'm having trouble getting my management chain to understand why I need the tools I'm requesting to do my job better.

Some people just seem to "get" security, but it just doesn't seem to click for me.
Investigation Theory will teach you how to conduct investigations regardless of the toolset.
Course Format
This offering of Investigation Theory is delivered in person over two days. You'll participate in lectures, individual labs, and team exercises aimed to help you become better at the underlying processes that help you become an effective security analyst. This will be an interactive class designed to take advantage of the fact that we are together in person.
This course is focused on describing how successful analysts connect the dots and work through security investigations. The lecture, labs, and group exercises will focus on these topics:
Metacognition: How to Approach an Investigation
Evidence: Planning Visibility with a Compromise in Mind
Investigation Playbooks: How to Analyze IPs, Domains, and Files
Open Source Intel: Understanding the Unknown
Mise en Place: Mastering Your Environment with Any Toolset
The Timeline: Tracking the Investigation Process
The Curious Hunter: Finding Investigation Leads without Alerts
Your Own Worst Enemy: Recognizing and Limiting Bias
Reporting: Effective Communication of Breaches and False Alarms
Case Studies in Thinking Like an Analyst
You'll also get to use Investigation Ninja, our custom simulation platform designed to teach investigation skills in a tool-agnostic, data-focused way!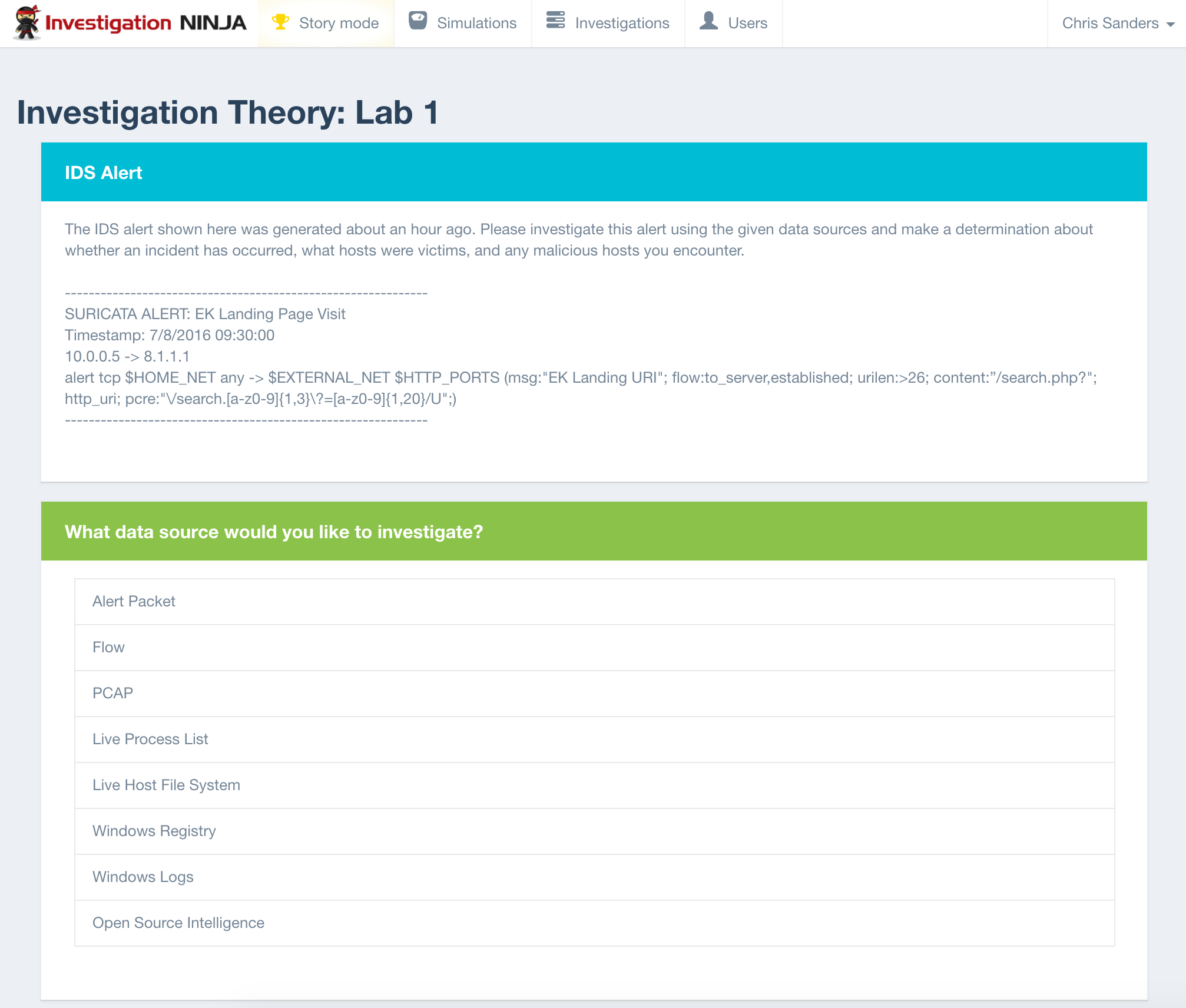 What are other students saying about Investigation Theory?
"If you are a SOC analyst or what to be one someday, Investigation Theory should be mandatory training and is extremely valuable." - Nathan, Cyber Security Analyst
"I feel like I've learned how to better respond to security incidents, formulate better hypothesis and ask questions that either help identify coverage gaps, or help bring incidents to resolution faster. I would highly recommend this course to seasoned Blue Team Veterans and newbies alike. This course teaches one how to think like an analyst and think critically when it comes to responding to security incidents." - Tony R. SOC Analyst
"Investigation Theory is a well structured course that covers many of the topics concerning those who work in a SOC, the most important one being how to approach an investigation in a tool agnostic manner. Many times we do go throughout our alerts without bringing up the right questions and the course does an excellent job of re-enforcing those ideas. Again, most importantly it shows that though tools may change, the concepts are not." - Matias, SOC Analyst
"This course literally blew my mind. I never knew how to think about investigating things, but now it makes a lot more sense. It opened a lot of doors for me." - Vikash, Forensic Analyst


FAQ
What do I get?
All students receive the following:
Two days of classroom instruction with Chris Sanders
Six-month access to the online Investigation Theory course materials
Six-month

access to the Investigation Ninja platform

Certificate of completion
Continuing education credits (CPEs/CMUs)
How is the on-site class different from the online class?
The two versions of the class share similar content, but are designed to be complementary. The online course is designed specifically for online engagement and covers a broader array of material. The on-site course is designed to take advantage of the fact that we are all together in person with group exercises and opportunities for dialog and active learning. There is some content overlap, but each version provides a unique learning experience.
If you've already taken the online course, you'll still get plenty of benefit from the on-site course as well. If you haven't, you'll get access for free when you attend on-site.
What hardware is required for the class?
Students should bring a laptop capable of connecting to a wireless network.
All exercises are delivered through a web browser. Instructions for testing your connectivity to the Investigation Ninja simulation environment will be sent well ahead of the course date.
What do I need to bring to the class?
You should plan to bring:
Eventbrite ticket for the event
Laptop as described above
An open mind
What prerequisites are there for this course?
This course is designed for analysts of all experience levels. If you are brand new to analysis, this course will help build a solid foundation that will accelerate your experience. If you have been performing investigations for a long time, this course will help you better understand your own thought process and optimize how you approach your craft.
There are no prerequisites for this course, although some basic awareness of common security data types (host and/or network data) is helpful.
Can I use a non-Eventbrite method of payment?
Yes, if you need to use another payment method please contact me for details at chris@chrissanders.org.
Is there a discount for multiple registrations from the same company?
Yes, there are a limited number of discounted seats available for companies who have multiple individuals that want to attend. Please contact me for pricing at chris@chrissanders.org.
What is the refund policy?
You may log into your Eventbrite account and request a refund up until seven days before the event.
This event is brought to you by Applied Network Defense and sponsored by CounterFlow AI