Description
Registration for InvestH2O 2016 includes the selection of one (1) morning breakout session on June 16th. Since the sessions are simultaneous, please select your highest priority. Please scroll to review the entire agenda, breakout sessions, roundtables, and special events.

---
InvestH2O 2016: Texas' Water Technology & Innovation Investor Forum
When & Where:
June 16-17, 2016 | 7:30am – 5:30pm |Austin Texas | W Hotel 200 Lavaca
Registration and Hotel Information: www.InvestH2O.com
What & Why:
An invitation-only forum of global, national, and statewide investment expertise to explore immediate and near-term opportunities in the $9+ billion Texas water technology marketplace.
The second annual gathering of water technology market intelligence analysts with representatives from Texas family offices, private equity, corporate venturing, venture capital, wealth management, public funds, and individual investors will go beyond the issues of water ownership, rights, and traditional policy debates.
We will update last year's information and data on water technology, infrastructure, and general investing strategies, as well as focus significant attention on large-scale projects, institutional strategies, and unique public-private partnerships in the $25-100+ million range that advance Texas into global innovation in seawater and brackish desalination, aquifer storage, conversion of produced water, and a host of other water market-making enterprises.
We will highlight successful strategies – and learn from failures – in water technology investing around oil and gas, manufacturing, food and beverage, agriculture, residential, commercial and public utility settings. Simply, InvestH2O 2016 is the annual forum for hearing from the experts AND the emerging, proven, market-ready technologies addressing customer demand across the 4,600 water agencies, 5,000+ corporate campuses, and tens of thousands of farms and ranches in Texas.
The Forum objectives: to listen, learn, and exchange previous and current experiences, successes and failures, and immediate opportunities for investing in Texas' desalination, reuse, conservation, and 'smart water' technology opportunities. To identify and expedite matching vetted products and services with investor priorities, resources, and syndication scenarios based on known market uses, public and private sector procurement, and state regulatory requirements.
The Forum agenda 'takeaways' (full details on following page):
Texas' unique water technology challenges and investment opportunities

Immediate industry, sector, and market demands for technologies and investment

Public-Private Partnership (P3s) and infrastructure-driven technology scenarios

Successfully funded technologies and exits

Leverage Texas' global and national network for additional opportunities, returns, and exits
For more information on the agenda, speakers, and inquiries about participant invitation for the Forum as well as AccelerateH2O, please contact Richard Seline - rseline@accelerateH2O.org
Agenda Thursday, June 16 2016
7:30- 8:30am Registration and Breakfast
8:30-9:00am Kickoff: The Texas Investment & Business Opportunity Landscape – Opening Remarks (Special Guest)
9:00-10:00am Where We've Been in A Year: Global and National Perspectives
Paul Hasler, Global Water Intelligence - Global and National Market Update
Reese Tisdale, Bluefield Research - Startups: Incubation and Acceleration
Patrick Mullen, Global Water Development Partners/Blackstone Capital - Growth and Scale-Up (Corporate Venture, Venture Firms, Private Equity)
Ed Crooks, KPMG - Large-Scale Transactions: Public Finance, P3s, Project Investment
10:30-12:00pm General Session & Technology Introductions: Markets, Opportunities, Investment Scenarios I
John Walsh, Produced Water Society - Oil and Gas- Energy Sector
Steve Gluck, former Technology Officer, Dow Chemical- Industrial Manufacturing Sector
Bruce Karas, VP, Coca Cola North America, Environment & Sustainability - Food & Beverage Sector
12:00-1:15pm Lunch: State of the State – Innovating Water in Texas
Eric Bielke, GE Ventures
Stephen McNair, Pioneer Water
Dr. David Maidment, University of Texas
1:30-2:45pm General Session & Technology Introductions: Markets, Opportunities, Investment Scenarios II
Trevor Hill, CEO, Fathom - Smart-Data, Instrumentation, and the Internet of Things
Ed Rightor, Dow Chemical, Director of Strategic Initiatives – Industrial Reuse, Zero Discharge, and the Circular Water Economy
Kenneth Cook, WaterCentric - Buildings, Commercial Real Estate, & Residential
2:45-3pm Michael Turillo, Chairman, InnoExchange - "Texas Water Innovation Clearinghouse and Collaboratory"
Coffee Break
3:30 – 4:30pm Roundtable on Innovating Utilities, Authorities and Public Sector Water Operations – Technology & Investment Perspectives
Ed Archuleta, former CEO of El Paso Water Utility; Chairman, AccelerateH2O - Moderator
Rob Renner, CEO, Water Research Foundation
Alan Heymann, Chief Marketing Officer, DC Water Authority
John Miri, Chief Administrative Officer, Lower Colorado River Authority
Representatives from Austin, Houston, El Paso Water Systems, and Regional River Authorities
4:30p—5:30pm Deal Flow "Barriers and Limitations": Streamlining Technology & Innovation in Texas –
the Honorable Jeff Moseley - Commissioner Texas Department of Transportation
the Honorable Dan Hunter - Deputy Commissioner, Texas Department of Agriculture
David Galindo, Division Director, Texas Commission on Environmental Quality
Leslie Savage, Division Director Railroad Commission
Texas Water Development Board (invited)
5:30pm-7:30pm "Innovators Reception" Honoring Texas' Leadership in Water Innovation
Public-Private Partnerships - Ed Archuleta, former President, El Paso Water Utility
Geospatial, Data Forecasting – David Maidment, UT Center for Research in Water Resources
Legislative and Policy – John Montford, former Texas State Senator
Advocate – Carole Baker, Texas Water Foundation
Energy – awaiting confirmation
Agriculture, Farming, Ranching – awaiting confirmation
AGENDA: Friday, June 17 2016:
7:30 -8:00am Registration and Breakfast
8:00am-8:30am Welcome and Opening Remarks
8:30-9:45am Kickoff Keynote Panel: Project Finance and Transaction Alternative Funding –
"Where Texas Can Lead the Nation" ($25-150 million and above project scenarios, P3s structures, new models)
Mary Scott Nabers, CEO, Strategic Partnerships, Inc. – Moderator;
Jeff Hughes- Environmental Finance Center –UNC/EPA;
Rodney Moss – AON Financial;
Francesca McCann - Black & Veatch
Wrap-up Observations: Honorable Harvey Hildebrand, Executive Director, Texas Facilities Commission
9:45 - 11:00am Keynote Panel: Investors' Insights – "Why We Invested, Where, and What's Next"
Laura Capper- General Partner, Capital Resources, Moderator;
Alexander Rozenfeld - General Partner, Climate Impact Capital;
Silicon Valley Bank – invited
John Freisinger – President and CEO, Technology Ventures Corporation
11:00am – 12:30pm Small Group and One-on-One Deal Networking (pre-arranged, on-site meet-ups, and project development) - AccelerateH2O's Opportunity Triage Network & ATI Water
11:00am – 12:30pm Roundtable on the Economics of Innovating Water in the Oil & Gas Sector (invitation only session)
12:45pm-1:45pm Lunch: "Go Big or Go Home – Making Texas a Global Hub of Water Innovation"
Hank Habicht - US Water Partnership, Managing Partner, (Moderator)
Kyle Ballarta, Founder and Managing Director, Falkon Ventures
Christine Martini, Investment Director for Water, Ultra Capital
Chris Holmes, Director of Water Programs, US Agency for International Development (invited)
Special Remarks: Honorable Daniel Agranov, Deputy Consul General of Israel: "the Texas-Israel Water Technology Opportunity"
2pm-3pm Roundtable on Innovative Water Demonstration Hubs: Unique Technology Proving-Sites, Showcases, and Investment Opportunities
Produced Water Eagle Ford/Permian Basin
Smart Irrigation – Rio Grande Valley
Data and Instrument Integration – Greater Austin
Brackish Desalination – Greater El Paso
Coastal Resilience - Greater Galveston
Closing Observations: Carlos Rubinstein, former Chairman, Texas Water Development Board
3pm-3:45pm WaterQuest (Competitions) & Special Purpose Funding Vehicle Announcements
4pm Adjourn Forum
Sponsors and Underwriters (at time of print):
Frost Bank

Texas Research & Technology Foundation

FATHOM

WaterFleet

WaterCentric

WaterSmart

DigitalH2O

The Honorable John T. Montford
For more information on a role as a sponsor or underwriter, please contact Peter Beland at (406) 599-6066 or via pbeland@stepwellwater.com
About AccelerateH2O:
Water is an ongoing challenge for Texas. One way to meet that challenge is to use the best technologies to make all sources of water go farther . . . and there are barriers keeping that from happening. We are focused on overcoming limitations to innovating water and the deployment of technology to address critical challenges for citizens, consumers, businesses, and communities. AccelarateH2O is a program established under the Texas Research and Technology Foundation, a 501c3 statewide initiative to break through barriers and put the world's best technologies to work. More about AccelerateH2Ocan be found at www.accelerateH2O.org


Opportunity-Triage Network: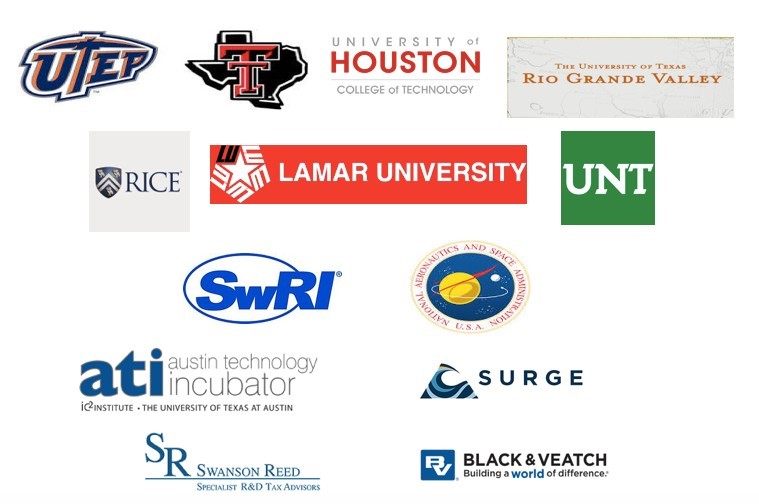 Research, Demonstration, and Evaluation Partners:

Investment Advisory and Market Analytics: