Description
主讲:
田测产(Charlie Tian),北大物理系八五级校友。Charlie是价值投资网站 GuruFocus.com的创办人和CEO。此网站目前每月有超过五十万的用户。其中许多是管理数十亿美元的专业投资者或投资机构。 另外还有上百个大学的学生和教授在使用网站的数据和研究分析平台。
在这个讲座中,田测产博士将和大家分享他如何从一个在大企业任职的物理研究员到创业转型成为一个企业家和投资人的坎坷而无悔的心路历程,并与大家畅聊十多年来投资的经验和教训,特别是如何通过价值投资在风险比较小的前提下获得比较高的长期回报。还会介绍他的新书"Invest Like a Guru". 田博士将回答大家关于创业和投资方面的问题,并在会后为大家的新书签名。现场将有抽奖, 一名幸运者将获得田博士的赠书。

此书不仅内容丰富,条理清晰,而且可读性极强。堪称田博士多年投资感悟的精华。以下是Amazon这本书的链接:
https://www.amazon.com/Invest-Like-Guru-Charlie-Tian/dp/1119362369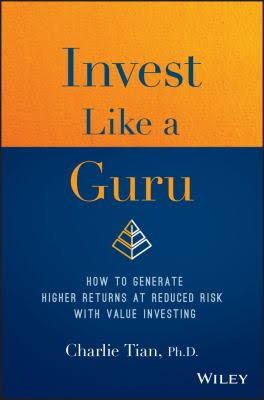 因为图书馆不允许 money exchanging hands,所以无法在现场售书。请感兴趣的校友/朋友提前在Amazon购书以便现场签名。当然,您也可以听完讲座再做决定。

Charlie Tian: PhD, is the founder and CEO of the value-investing website GuruFocus.com. He is the creator of the website's value screeners, strategies, and research tools, which are used by more than half a million investors (including professional money managers and institutions) monthly and by professors and students in more than 100 universities worldwide. Dr. Tian has been featured numerous times by prestigious financial magazines and books such as Forbes, Fortune, BusinessWeek, Barron's, etc. He has been an invited speaker at numerous events including the Value Investing Conference. He also organizes GuruFocus Value Conference in Omaha every year.
Before founding GuruFocus.com, he was a physicist/resercher and the holder of more than 30 U.S. patents. Dr. Tian is a graduate of Peking University.
About the talk: Dr. Charlie Tian will share his experience of starting a successful investing research business, and what he has learned about the investing strategy that can over long-term generate higher returns with smaller risks. Key gurus, strategies, factors, risks, and possible traps will be discussed.
费用: Free

附注:
- 此次活动是北大DFW校友会为庆祝母校119年校庆而举办的活动之一。

- 北大DFW校友会是non-profit 503(c)组织,宗旨是为生活在DFW地区的北大校友提供各种信息和帮助。我们会不定期的举办各种活动来促进校友之间的交流。希望大家在参加活动的同时,能够慷慨捐助,从而让我们能够更好地为大家服务。
- 本次活动对其它校友会以及本地对创业/投资有兴趣的朋友开放,欢迎大家一起参与交流和讨论。