Learn about the funding opportunities & programs for founders in the Pittsburgh region.
About this event
This webinar is designed to share resources, including funding opportunities in the greater Pittsburgh region, available to local, national and international entrepreneurs.
Who Should Attend:
Aspiring entrepreneurs, early-stage startup founders seeking funding, or impact investors scouting deals.
Date: Wednesday, April 6, 2022
Time: 4 pm (ET) / 3 pm (CT) / 1 pm (PT)
Location: Online -> Zoom Link
What You'll Learn About:
Invest In Women X Pittsburgh is a Chloe Capital program in partnership with Ascender and Funded by the Richard King Mellon Foundation. This unique fundraising experience was designed to help underrepresented founders raise capital.
During this Information Session, we'll share:
Resources across the Pittsburgh region for early-stage innovation companies, including incubator spaces and competitions with funding prizes;
And valuable insight to help identify which resources are the best fit for your company.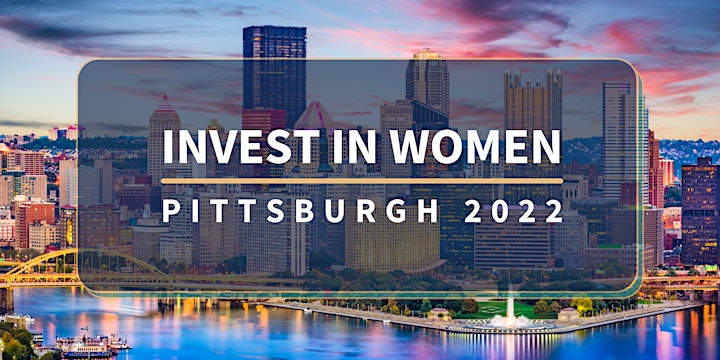 What's the Program:
Invest In Women x Pittsburgh is an initiative for underrepresented entrepreneurs in the Pittsburgh area, designed to support women-led technology companies tackling real-world problems. Chloe Capital, Ascender and the Richard King Mellon Foundation are partnering to create a collaborative and inclusive fundraising experience through a series of online events leading up to a 48-hour in-person program in Pittsburgh this Spring. Five women with companies located in, or willing to relocate to, Allegheny or Westmoreland counties will be selected to pitch Chloe Capital and a team of active investors at a public Founder Showcase on April 27, 2022. On average, participants in a Chloe Capital program each go on to raise $2,000,000 within a year, catalyzed by visibility and introductions to the firm's world-wide network.
What's the Timeline:
Applications Open: November 1, 2021
Seed to Series A women-led technology companies seeking funding apply here: ChloeCapital.com/funding
Online Information Session: January 19, 2022 (open invite)
Online Information Session: February, 2022 (open invite)
Online & In-person Information Session: March, 2022 (invitation only)
Applications Close: February 11, 2022
In-person Fundraising Experience: April, 2022 (invitation only)
Founder Showcase: April, 2022 (open invite; space is limited)