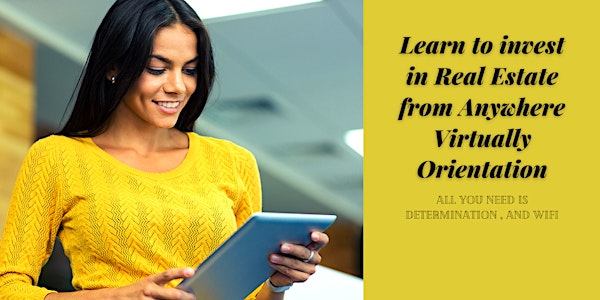 INVEST in REAL ESTATE from ANYWHERE Virtually...Introduction!
Start working towards your dreams today by learning how to invest in real estate!
About this event
REAL LIFE EXAMPLES, Learn how :
Jason & Joe bought a flip for 11K on a credit card
JC bought 2 out of state cash-flowing rentals virtually in his first 9 months
Joe is flipping a property in CHI from NY
Carlos has a rental in Ohio he has never seen in person but gets a check every month
Tamara virtually bought two rentals in one day and didn't pay anything out of pocket
and many more example
During this meeting you will learn how you can start on your path to your dreams by investing in real estate. You will learn how regular people with no prior experience have become success investors with support from seasoned investors and our self directed on-demand real estate classes.
Our community has been educating and creating successful investors since 2005. Every year our returns have increased and we add new strategies to our systems. Our team of investors has survived and thrived during the market crash of 2007 and are ready to show you how you can do the same during these uncertain times.
Real estate has been proven to be recession-proof for those who know how to adjust their strategies during a down mark
**This meeting will now take place online using the ZOOM APP.**