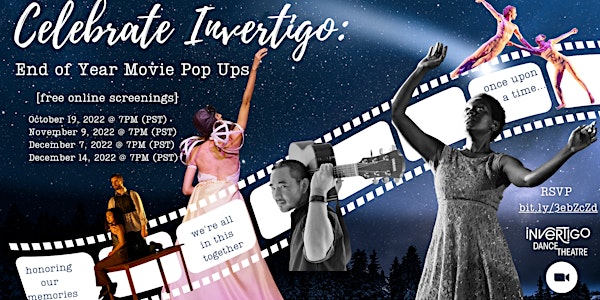 Invertigo's End of Year Movie Pop Ups!
A free virtual screening to celebrate Invertigo's artists, designers, community friends who have helped us become the company we are today!
About this event
We're embracing the end of year by honoring some of Invertigo dance film projects and documentations. Featuring company dancers and art collaborators throughout the years. Join us each time for a night of dance films and help us celebrate where we were, where we are, and where we're going!
Starring our amazing company dancers, our alumni, designers, and our Dancing Through Parkinson's dancers.
Featuring Projects:
October 19th, 7 PM (PST): Formulae & Fairy Tales
November 9th, 7 PM (PST): Kitchen Table Project's How We Emerge
December 7th, 7 PM (PST): Brian's Song - A Dancing Through Parkinson's Documentary
December 14th, 7PM (PST): Encore Formulae & Fairy Tales
Additional short films from Invertigo's film vault like "House Lights Up!", "Crane Dance", and beautiful pieces from our Digital Dance Care Package collection will also be shown!
This event is free & open to the public. Please share with your friends.
Press & Inquiries: rosa@invertigodance.org
RSVP for Zoom Link!