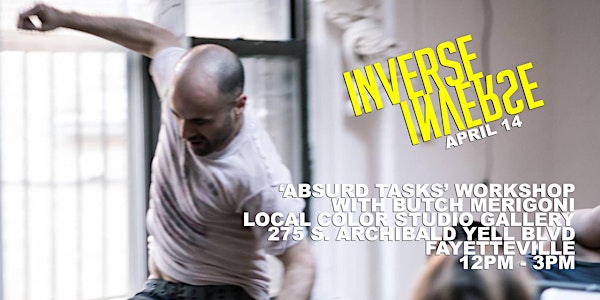 INVERSE PERFORMANCE ART FESTIVAL: 'Absurd Tasks' Workshop
When and where
Location
Local Color Studio Gallery 275 S. Archibald Yell Boulevard Suite 2 Fayetteville, AR 72701
Description
'Absurd Tasks' Workshop with Butch Merigoni
Inverse Performance Art Festival April 14, 2018
12:00pm -3:00pm Local Color Studio Gallery
Length: 3 hours
Wear shoes and comfy clothes
---
In life, in work, and definitely in creative ventures, doubt and uncertainty are inevitable components. But instead of looking for certainty, why not play with being lost? Why not confront the unknowns without need or obligation?
This workshop takes participants through a series of absurd tasks that oscillate between chaos and coherence. Creating a nonsensical environment, participants simultaneously create wall mounted grids, play tag, make sandwiches and read dessert recipes aloud. They hold story time, run circles around the room, duet count to 850 and stack/ climb/drag.
By enabling a kinetic and unpredictable environment, a responsive atmosphere is built. One that encourages playful audacity, momentary awareness and the permission to be lost. These nonsensical tasks serve as both ships and anchors, providing access to uncharted waters, stability when needed and a way back in when ready.
While an expanded awareness is the motivation for this project, the only imperative is the deconstruction of the rational, the interrogation of the turbulent and the willful dive into the nonsensical. By way of this, we can create space for a kind of knowing that stirs up the audacity to know more.
This work is "a quest for rationality in the form of turbulence, transgression and subversion." It's a place to dismantle logical thinking, ground oneself in the unknown and willingly interrogate the mess. This is committing oneself to a playful exploration of being alive in the effort to chart new and less limiting worlds.
*Quote by Cornel West
---
For more information about the artists please visit http://www.butchmerigoni.com
For more information about the festival please visit http://www.inverseperformanceartfestival.org
---