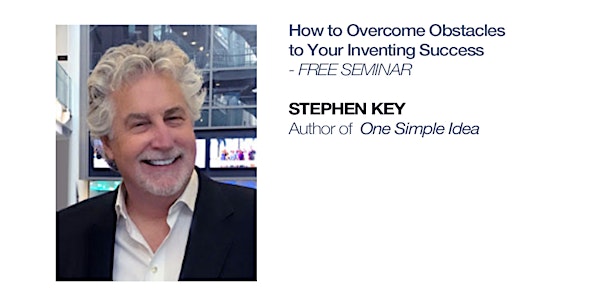 Inventors Forum Speaker Series Presents STEPHEN KEY- Overcoming Obstacles
When and where
Location
UCI Applied Innovation 5141 California Avenue #250 Irvine, CA 92617
Description
How to Overcome Obstacles to Your Inventing Success
Every invention is different, but the roadblocks product developers face in bringing their ideas to market are not. How will you motivate others to support your vision? How will you connect with the right people at the right companies? Do you really need a patent? What about an NDA? For the past 15 years, Stephen Key has been teaching creative people from more than 40 countries how to profit from their ingenuity. During this presentation, he will outline the obstacles that most frequently trip up inventors who want to license their ideas and describe his strategies for overcoming them. His presentation will include concrete tips you can begin implementing immediately, including pull-through marketing technique, win-win negotiation strategy, and why a $65 provisional patent application is all you need to license your idea.
ABOUT STEPHEN KEY
Stephen Key is an award-winning product developer, a renowned intellectual property strategist, and a lifelong entrepreneur. The dozens of concepts he has brought to market have retailed in Walmart, 7-Eleven, and Disney stores and theme parks worldwide, as well as been endorsed by Michael Jordan, Alex Trebek, and Taylor Swift. In 2001, Key cofounded inventRight, the one-on-one coaching program that has helped people from more than 40 countries license their ideas.
One Simple Idea, his bestselling book about product licensing, has been translated into five other languages. He writes about intellectual property strategy, licensing, and entrepreneurship online weekly for Inc., Entrepreneur, and the design website Core77.

Connect with Stephen:
YouTube: https://www.youtube.com/user/InventRightTV
inventRight: http://www.inventright.com/
Stephen's products: http://inventright.com/stephens-products
Amazon Author Page: http://www.amazon.com/Stephen-Key/e/B004EHJINU
Facebook: https://www.facebook.com/stephenmkey
LinkedIn: https://www.linkedin.com/in/stephenmkey