Inventing Independent Cinema: A Celebration of Maya Deren, 1917-1961
Description
Event Brief
On December 18, Professor Richard Peña, Professor of Film at Columbia University's School of the Arts, Former Program Director of the Film Society at Lincoln Center, and Director Emeritus of the New York Film Festival, will be invited to give a talk themed on Inventing Independent Cinema: A Celebration of Maya Deren, 1917-1961.
During this talk, he will explore the life and achievement of Maya Deren, one of the most important American experimental filmmakers and entrepreneurial promoters of the avant-garde in the 1940s and 1950s, by screening and analyzing several of her short works, as well as placing her art and activities within the context of postwar America.
The short films of Maya Deren are among the treasures of American cinema, deeply influential to several generations of filmmakers and just as daring when seen today as when they were first screened. Deren's daring and success, encouraged other independent filmmakers to screen their works, and thus began the creation of an entire alternative network of distributors, exhibition spaces, and even producers.
Speaker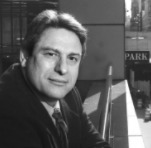 Professor Richard Peña has been at Columbia since 1989, becoming full time in 1996 and being named Professor of Professional Practice in 2003; from 2006 to 2009 was a Visiting Professor in Spanish at Princeton University; from 2015 to 2016 was a Visiting Professor at Harvard University. Professor Peña has also served as the Program Director of the Film Society of Lincoln Center and the Director of the New York Film Festival from 1988 to 2012. At the Film Society, he has organized major film series devoted to African, Chinese, Cuban, Polish, Hungarian, Arab, Korean, Japanese Soviet and Argentine cinema.
Special Notice
The program will start registration at 6 p.m. Please arrive at least 10 minutes before the program starts to allow enough time to go through security.
Please bring a valid photo ID to enter the Beijing American Center. No large bags will be allowed into the BAC for this event.
While portable electronic devices, such as mobile phones, iPads and other tablets, and smartwatches are permitted, guests may not bring laptop computers to Beijing American Center programs.
Audio or video recording of the program will not be permitted.
The event will be conducted in English.