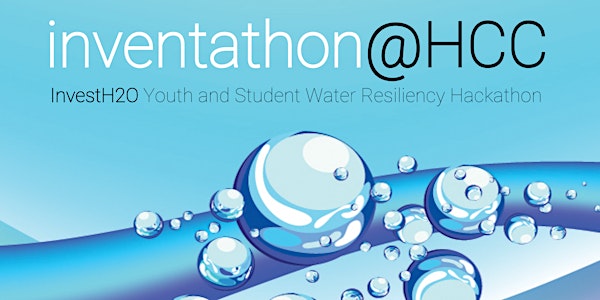 Inventathon@HCC - InvestH2O Youth and Student Water Resiliency Hackathon
By Houston Community College
When and where
Date and time
September 22, 2018 · 9am - September 23, 2018 · 7:30pm CDT
Location
HCC Stafford Workforce Building 13622 Stafford Road Stafford, TX 77477
Description
InvestH2O Youth and Student Water Resiliency Hackathon
The INVENTATHON@HCC is essentially a hackathon, with a twist!
A two-day weekend gathering of high school, community college, four-year and graduate student teams organized to address specifically defined challenges for urban water-related resiliency.
Registration has been made "free" to all student participants with a generous sponsorship from Carollo Engineers and AccelerateH2O.
Using a fast-paced 'hackathon" process and methodology, teams will be introduced to the overall issues of water management and resiliency by subject matter experts, chose a challenge to address, receive mentoring and feedback in generating technologies and integrated solutions, and present their "products and services" to a set of judges for awards and recognition during the InvestH2O 2018 Forum on September 26th, 2018.
InvestH2O 2018's topic was chosen in response to the ongoing threat of storms and floods in one part of the State, drought and depleting sources of water in other parts of Texas.
Too much water one day, not enough the next.
Additionally, the demand for uninterruptible water supplies due to industry and population growth, expanded use of sensors and the Internet of Things, and the requirement for fortifying critical infrastructure are persistent challenges and pressures on communities, citizens, ratepayers, industries, and facilities!
So at the INVENTATHON@HCC, you can do anything from coding an app, building a robot, or making something uniquely creative based on a given theme of Water for Fall 2018!
Teams can consist of 2-5 members and you will have approximately 16 hours to create something amazing! and Yes, you can do it by yourself, but it won't be the same!
Hackathons, like the INVENTATHON@HCC, are a can't miss experience! You can learn something new, make something that the world has never seen before, and win some amazing cash prizes!

About the organizer
Office of Student Innovation and Entrepreneurship, Department of Entrepreneurial Initiatives