About this Event
IGEC, Inven Global's one of a kind esports conference, will be held on Tuesday, June 4th at UC Irvine, Orange County, Southern California.
Esports team owners, pro gamers, game developers, CEOs, investors and industry influencers will travel from all over the world to discuss the past, present, and future of the competitive gaming
IGEC panels are defined by their authenticity - this isn't an "intro to esports" conference. A standard ticket gets attendees access to all panels and speeches and, to those just stopping by for free, InvenGlobal will be hosting giveaways, tournaments, interactive booths, and much more!
Venue - University of California, Irvine (UCI)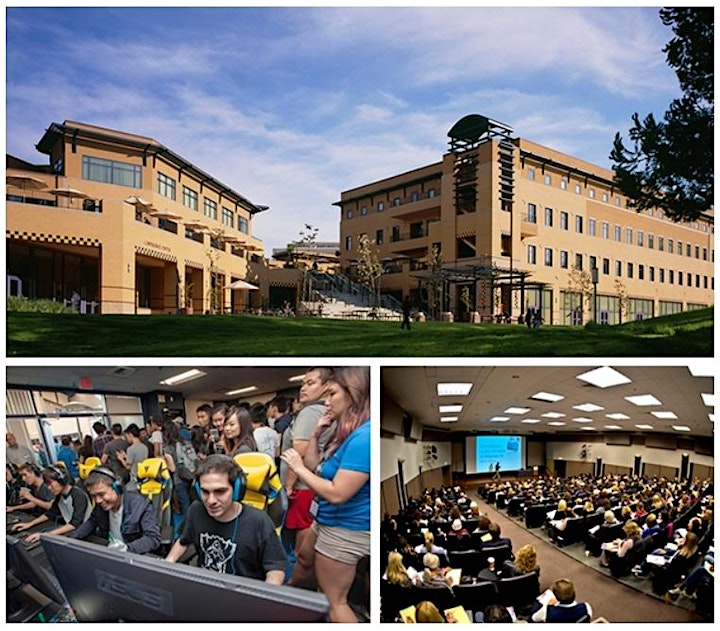 UCI is the first public university to create an official Esports scholarship program and is regarded as one of the best and most comprehensive Esports programs in the world.
72% of undergraduate students at UCI identified themselves as gamers. In 2015, College Magazine ranked UCI the #1 school for gamers in North America.
UCI Conference Center
University of California, Irvine
A311 Conference Center, Irvine, CA 92697
As Head of Esports for North America, Chris Hopper oversees the operation of the League of Legends Championship Series (LCS), the premier league for the world's most popular esport in the United States and Canada. Under his leadership the LCS incorporated a franchise model, creating long-term partnerships with esports stalwarts such as TSM, Cloud9, and Team Liquid as well as traditional sports teams such as the Golden State Warriors, the Cleveland Cavaliers, and Houston Rockets.
During his tenure, the LCS attracted sponsors like Dell Alienware, State Farm, & Jersey Mike's and saw the average starting salary for players rise above $320,000. Additionally, Chris works alongside the College League of Legends team to advise on its development in North America which currently sees the participation of 300 colleges & universities.
Chris Hopper has been at the forefront of developing sustainable esports leagues while also championing the fair treatment and compensation of professional players. In this pivotal year of esports growth, we are thrilled to host such an authentic (and extremely relevant) industry leader.
Guest Speakers & Presenters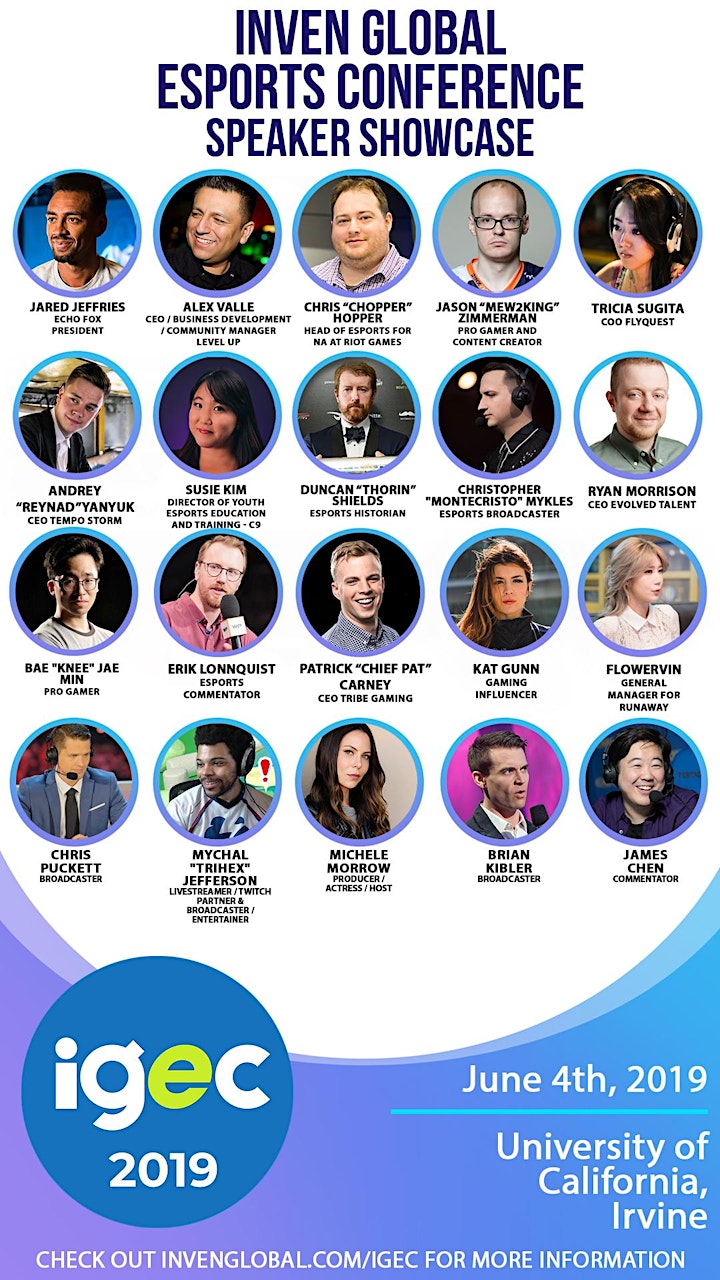 Joining Hopper is our ever-growing list of panelists and special guest speakers. We can't wait to share more details about specific panels taking place at IGEC 2019 but, until then, check out our guest list so far!
- Erik "Doa" Lonnquist - Esports Commentator for the Overwatch League
- Lee "Flowervin" Hyuna - Streamer, YouTuber, and Co-Founder of RunAway
- Bae "Knee" Jae Min - Professional Fighting gameplay and two time Tekken series EVO Champion
- Andrey "Reynad" Yanyuk - CEO, Tempo Storm
- Alex Valle - CEO / Business Development / Community Manager, Level Up
- Ryan Morrison - CEO Evolved Talent
- Jared Jeffries - President, Echo Fox
- Khalid Jones - Co-Owner, Echo Fox
- Jason "Mew2King" Zimmerman - Pro Gamer and Content Creator
- Matthew Jones - Vice President of Operations, Nova Esports
- Duncan "Thorin" Shields - Esports Historian
- Jason Moore - Co-founder/President of APE (Agency for Professional Esports)
- Nate Eckman - Co-Founder & CCO at Ultimate Media Ventures
- Trisha Hershberger - Gaming/Tech Host
- Susie Kim - Director of Youth Esports Education and Training at Cloud 9 and Spitfire
- Jimmy Nguyen - President and COO, Level Up
- Jason "Moses" O'Toole - Esports Commentator and Analyst
- Emily Gonzalez- Holland - Community Manager at Cloud9
- D'Ron "D1" Maingrette - Twitch Partnerships Community Program Manager
- Ricky Gonzalez - VP of Content, FlyQuest
- Mateus Portilho - Social Media Manager at Cloud9
- Sofia Hariz - Entertainment Journalist & Photographer
- Rachel Feinberg - CEO / Co-founder, ATEYO
- Christopher "MonteCristo" Mykles - Color commentator and analyst for the Overwatch League
- Sabrina Wong - League of Legends Team Manager, 100 Thieves
- Flannery Dunn - Publisher Developer Relations Manager at ESL
- Constance Steinkuehler - Professor of Informatics, UCI
- Patrick "Chief Pat" Carney - CEO/Founder of Tribe Gaming
- Mandie Roman - Consumer Products Consultant
- Tricia Sugita - COO at FlyQuest Sports
- Matt Dillon - CEO of Ghost Gaming
- Roger DiLuigi - Nintendo America Brand Ambassador and Content Creator
- Kat Gunn - Gaming Influencer
- Kashan "ChillinDude" Khan - Pro Smash Bros. Player
- Steve Nabi - CEO of Meta Threads
- Jeff "SuiJeneris" Chau - Mobile Esports Commentator, 18th Asia Games
- Brett Lautenbach - President NRG Esports & The San Francisco Shock
- Delilah Panio - Vice President, Capital Formation
- Duran Parsi - CEO, Collegiate Starleague
- Lauren Gaba Flanagan - Creative Strategist and Art Director
- Mark Deppe - Esports Director, UCI
- Hillary Phan - UCI Esports Player Support Services
- Gerald Solomon - Executive Director, Samueli Foundation
- Zynab Makki - Champlain College Esports Advisor, Business Student
- Toa Dunn - Head of Riot Music Group (Riot Games)
- James Chen - Commentator
- Chris Mann - President at ULTIMATE
- David Amirrezvani - Esports Medicine and Performance Specialist
- Trenton Pierson - SVP, Strategy at We Are Nations
- Amine Issa - Mobalytics Founder
- DaJuan "Shroomed" McDaniel - Super Smash Bros. Melee Competitor
- Nikki Shum-Harden - VP Partnerships and Strategic Marketing Super League Gaming
- Brian Kibler - Broadcaster
- David Lee - VP of Operations at ESP Gaming
- Joe "Joemeister" Gramano - Overwatch Head Coach
- Michele Morrow - Producer / Actress / Host
- Alicia Marie - Costume creator, cosplayer and designer
- Nikki Lewis - Head of Marketing, League of Legends Franchise
- Justin Ju Heon Lee - League of Legends General Manager, Echo Fox
- Chloe Sevilla - Stats Lead of the LCS
- Chris Puckett - Broadcaster
- Yoonsup "Locodoco" Choi - Content Creator / Personality
- Michael Brooks - Executive Director of the National Association of Collegiate Esports (NACE)
- Mark "Garvey" Candella - Director of Strategic Partnerships for Twitch
- Samantha Anton - Chief Operating Officer, NASEF
- Mychal "Trihex" Jefferson - Livestreamer / Twitch Partner & Broadcaster / Entertainer
- Evan Burk - Leadership Coach with LA Gladiators
- Bethany Pyles - Esports Coaching Coordinator
- Anthony Rogers - Graphics Producer for the LCS
- Dave Stewart - LCS Executive Producer
- Riley Jamison - Creative Director & Content Lead for La Gladiators
- Pineaqples - Content Creator for Echo Fox
- Andrew Conti - Marketing Director, Esports at Riot
- Alberto Rengifo - Co-Founder of APE
- Sandra Chen - Social Media Coordinator at Clutch Gaming
- Felix LaHaye - Founder & CEO United Esports
- Tom Turner - Executive Director, Educational Services, Orange County Department of Education
- Stephanie "missharvey" Harvey - Professional Esports Athlete, Gaming Icon and Brand Influencer
- Cayle Drabinsky - Director of Business Operations for Milwaukee Bucks
- Arthur Chandra - Senior Broadcast Producer for the LCS
- Cheolhag Kim - Secretary General, Korea e-Sports Association
- Chad "History Teacher" Smeltz - Director of Esports at Harrisburg University
- Scot Thor - Vice President, Content at KemperLesnik
- Richard Lewis - Esports Journalist
- Kevin Hoang - Twitch Partnerships Account Manager
- Sam Morris - Space Productions Co-Founder
Agenda Information
Our panels are led by international, authentic industry leaders who work in esports every day. By inviting them all to one place, Inven Global is hosting the esports summit of the year.
Whether your looking to invest in esports, create an organization of your own, or want to learn from the confessionals of tournament tested pros, IGEC 2019 has something for you.
Panel information will be updated shortly.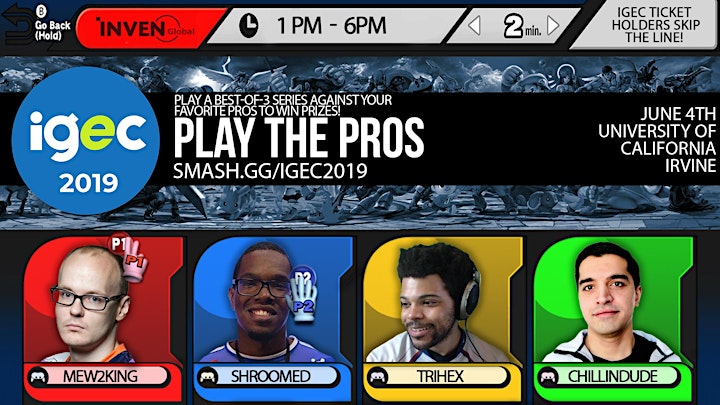 Super Smash Bro. Ultimate tournament, LAN set ups, winner stays fighting game stations, developer booths, esports apparel pop-up shops, pro gamer and streamer meet & greets, and community panels are just some of the cool things happening at IGEC 2019 .
Panel access, exclusive IGEC X EsportsFamous Heavy T-shirt designed by @EsportsFamousstandard, IGEC goodie bag are only available to standard ticket holders.
Only All-Access Ticket holders get access to our conference lounge, special sponsor gifts, exclusive IGEC giveaways, on-stage pitch opportunities, premium goodie bags, exclusive IGEC X EsportsFamous Oversized Fit Hoodie designed by @EsportsFamous and our networking party once the conference concludes.
IGEC Premium Networking Party (All-Access Ticket Holders Only)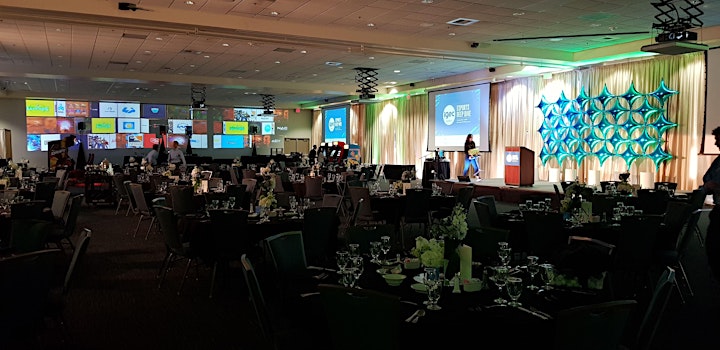 - Catered dinner and appetizers for all attendees.
- Hang out at our open bar and network with like-minded attendees over whatever drink you'd like.
- What is a party without a photo booth? Let everyone know you were at the very first IGEC at our free photo booth.
- Pop-up shops from exclusive esports apparel brands. Giveaways, VIP gifts, and more!
- Free play fighting game arcade machines, PC LAN center, live music, and constant giveaways throughout the party
- An IGEC tradition, attendees are given 60 seconds and a mic in front of our esports VIPs and panelist -- pitch whatever you want! (optional)
- Professional translators will be provided for free in Korean, Chinese, and English for your convenient networking.