Description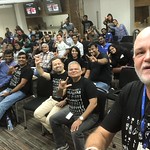 Intuit's Annual Accessibility Summit is an opportunity for Bangalore's tech companies and community organizations to come together and share their knowledge on building inclusive experiences. This year's summit is focused on employment opportunities for people with disabilties. The summit includes presentations, workshops, panel Discussions and conversations.
Social media star with more tweets/shareout wins a prize. Please use this hashtag : #intuita11ysummit
Intuit Accessibility
Intuit builds compelling user experiences for our customers, regardless of their physical, sensory, communication, and cognitive abilities. Our inclusive work space, customer outreach, and leading industry initiatives help expand accessibility opportunities. Intuit India received the 2017 Mphasis Universal Design Award for its efforts to build accessible products and inclusive workplace.
Agenda
08:45 AM – 09:30 AM Breakfast - Registration - Building Network
09:30 AM – 09:45 AM Welcome Note
09:45 AM – 10:05 AM Madhumitha Venkataraman (Diversity Dialogues) Building a mental health inclusive workplace/ Attitudes towards disability

10:05 AM – 10:25 AM Anu Biswas (Prakat): Jobs versus Careers for people with disability

10:25 AM – 10:45 AM Vidya Rao (Wipro)

10:45 AM – 11:00 AM TEA BREAK
11:00 AM – 12:00 PM Panel Discussion- Employers Perspective on Candidates with Disabilities- Hiring, Onboarding, and measuring Success
11:00 AM - 12:00 PM Varsha Agarwal (VMWare) Workshop - Mentoring candidates How to represent themselves
12:00 PM – 12:25 PM Rama Krishnamachari: Legislation for accessibility
12:25 PM – 12:35 PM The invisibles Team -Performance by group
12:35 PM – 02:00 PM LUNCH BREAKOUT and Stall visit
02:00 PM – 02:30 PM Siva priya (Inclusion and Accessibility Professional) Accessibility and inclusion for employees in corporate
02:30 PM – 03:30 PM
Panel Discussion with employee with Disabilities - What corporate should Do in hiring people with disabilities
Siva Priya J - NGO

Prathap Ram - JP Morgan

Jeevan B Manoj - Microsoft

Gagandeep Chandok - President -Thalassaemia and Sickle Cell Society of Bangalore
03:30 PM - 03:40 PM The invisibles Team -Performance by group
03:40 PM CLOSURE NOTE- Ted Drake (Global Accessibility Leader)