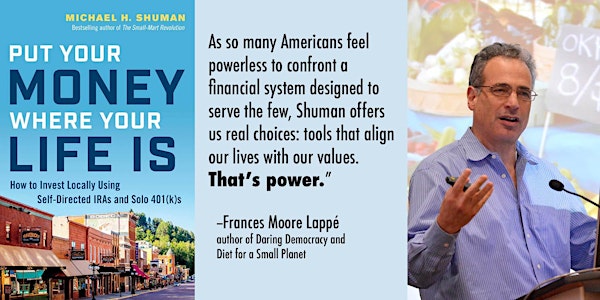 Introductory Webinar: Rebooting Your Community After COVID
Introductory Webinar: Rebooting Your Community After COVID - How to Invest Locally Using Self-Directed IRAs and Solo 401ks
About this event
Presenter: Michael Shuman, Community Economist and Author of Put Your Money Where Your Life Is
This webinar offers an introduction to a full workshop helping you move more of your dollars from Wall Street to Main Street.
There are real alternatives, but few know about or consider them.
In fact, you can invest in everything that matters to you. You can put your money into that neighborhood grocery store you love, your little sister's first house, or your nephew who needs to pay off high-interest student loans.
If you're smart about local investing, you can do this in a way that provides substantial, stable financial returns and lowers the risk of Wall Street investments. Plus, these commonsense local investments wind up strengthening your community, your local resilience, and your tax base.
Who might find this webinar useful? The target audience is anyone in our community with a tax-deferred retirement account, whether a 401k or IRA, interested in moving some of his or her money into local businesses, projects, or people. But many others might benefit from this workshop as well, including:
• Local business people looking for new sources of capital (who might be able to convince more investors to invest in their businesses using DIY tools).
• Economic developers and consultants with an interest in local business, economic gardening, "Think Local First," or entrepreneurship (who might want to tap the power of grassroots capital).
• Local bankers, credit union managers, investment advisors, brokers, pension fund managers (who might be interested in providing new products and services to their clients).
• Local politicians and civil servants (who might be looking for new ways to solve local economic problems and strengthen local resiliency).
• Local philanthropists and community foundation leaders (who wish might to supplement their philanthropy with local investment initiatives).
• Professors and students involved in relevant fields in business, investment, economic development, planning, and local governance.
Please join us for this free introductory workshop.