Event Information
Location
California State University San Marcos
333 South Twin Oaks Valley Road
MARKSTEIN HALL 322
San Marcos, CA 92096
Description
Introductory 25Live Training is for CSUSM faculty, staff and recognized Student Organizations. 25Live is the reservation program used by the University to reserve space for meetings and events. New 25Live users are added to the system after they've attended a 25Live Introductory training session.
---
*LIMIT 1 PER PERSON*
Tickets FREE with Code. USE the CSUSM MASCOT's NAME as the code for a Ticket!
After inputting the correct code you will be given access to all available Trainings yet to occur, each Ticket is Labeled with the Date of its corresponding Training.
FOR ALL DATES AFTER JANUARY 25TH SEE BELOW..
****PLEASE FOLLOW LINK BELOW FOR ALL INTRODUCTORY 25LIVE TRAINING DATES AFTER JANUARY 25TH*******
Link:
https://www.eventbrite.com/e/introductory-25live-training-tickets-41779350161
---
Trainings ALL located in MARKSTEIN HALL 322
Training Dates: (***USE CSUSM's MASCOT'S NAME AS CODE FOR ALL TRAININGS)
1. Thursday: January 11th, 2018
2. Thursday: January 25th. 2018
START: 10:00AM - ALL DATES
END: 11:00AM - ALL DATES
---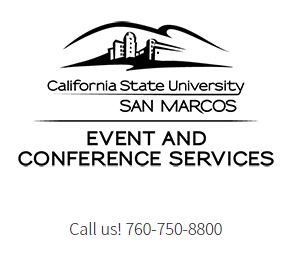 Email us! Events@csusm.edu
Date and Time
Location
California State University San Marcos
333 South Twin Oaks Valley Road
MARKSTEIN HALL 322
San Marcos, CA 92096