Event Information
Location
Gowld Art Centre
Rm1101
Eastern Centre
Quarry Bay, HKI
Hong Kong
Introduction to western calligraphy - setting up, letter anatomy and more Guide to stroke control and manipulation of broad-edged pens
About this Event
October art jamming and workshops🎨
Featuring #cloudpainting #calligraphy #bookbinding
Introduction to western calligraphy - setting up, letter anatomy and more
Guide to stroke control and manipulation of broad-edged pens
✔Art instructor will be there to guide you through. We welcome beginners as well as amateurs!
✔Materials are included so come free handed!
✔We can also open ANY of our previous workshops for more than 2 people. Come with your friends and family! e.g palette knife painting, food miniatures, jewellery design, outdoor drawing, etc..
✔You can choose your own topic/material for your art.
DM us for reservation now!
Please wear a mask at all times for others. We will check temperature and provide hand sanitizer upon everyones visit and keep the space clean. :mask:
🎨十月工作坊與即興藝術🎨
雲朵繪畫 即興藝術 - 認識不同藝術家的作品,並使用丙烯,水粉或水彩創作
西洋書法入門 - 學習執筆,設定書寫環境,解剖字母結構及更多
平頭筆的控制和操作
手造書入門 - 認識造書工具,了解紙的特性和書的結構
找出適合自己的紙張,縫製一本輕巧的本子
✔有導師授教,歡迎初學者或業餘藝術家
✔課堂已包括物料
✔如對本中心之前的工作坊有興趣, 只需兩位學生便可開班
✔可自行選擇即興藝術主題和物料
DM us for reservation now!
上課時請戴上口罩,我們會量體溫和提供酒精搓手液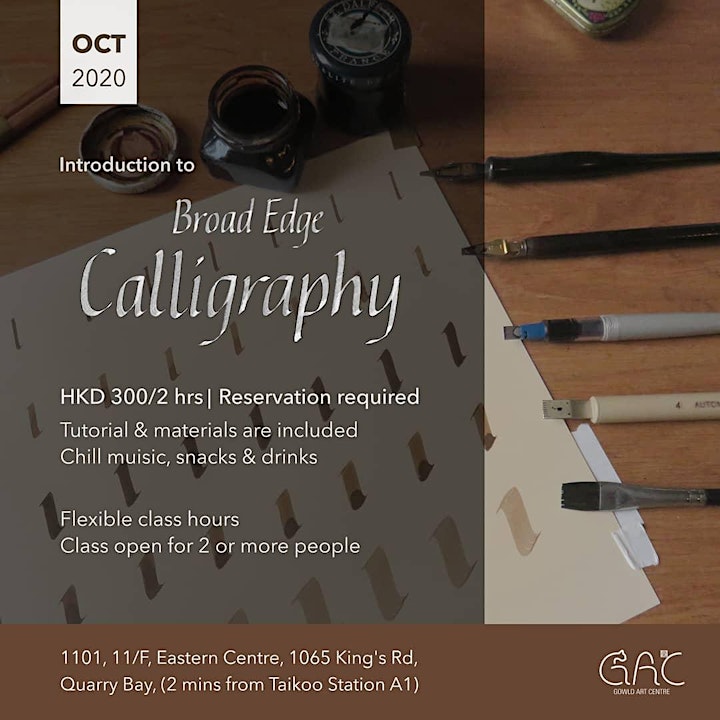 Date and Time
Location
Gowld Art Centre
Rm1101
Eastern Centre
Quarry Bay, HKI
Hong Kong