Introduction to Theravāda Buddhism Part I (in English) - 3/8 to 19/10/2018...
Description
Day: Every Friday
Date: From 3 August to 19 October 2018 (12 Lessons)
Time: 7.30pm to 9.00pm
Venue:
Buddhist Fellowship East
160 Paya Lebar Road #08-03 Orion Building,
Singapore 409022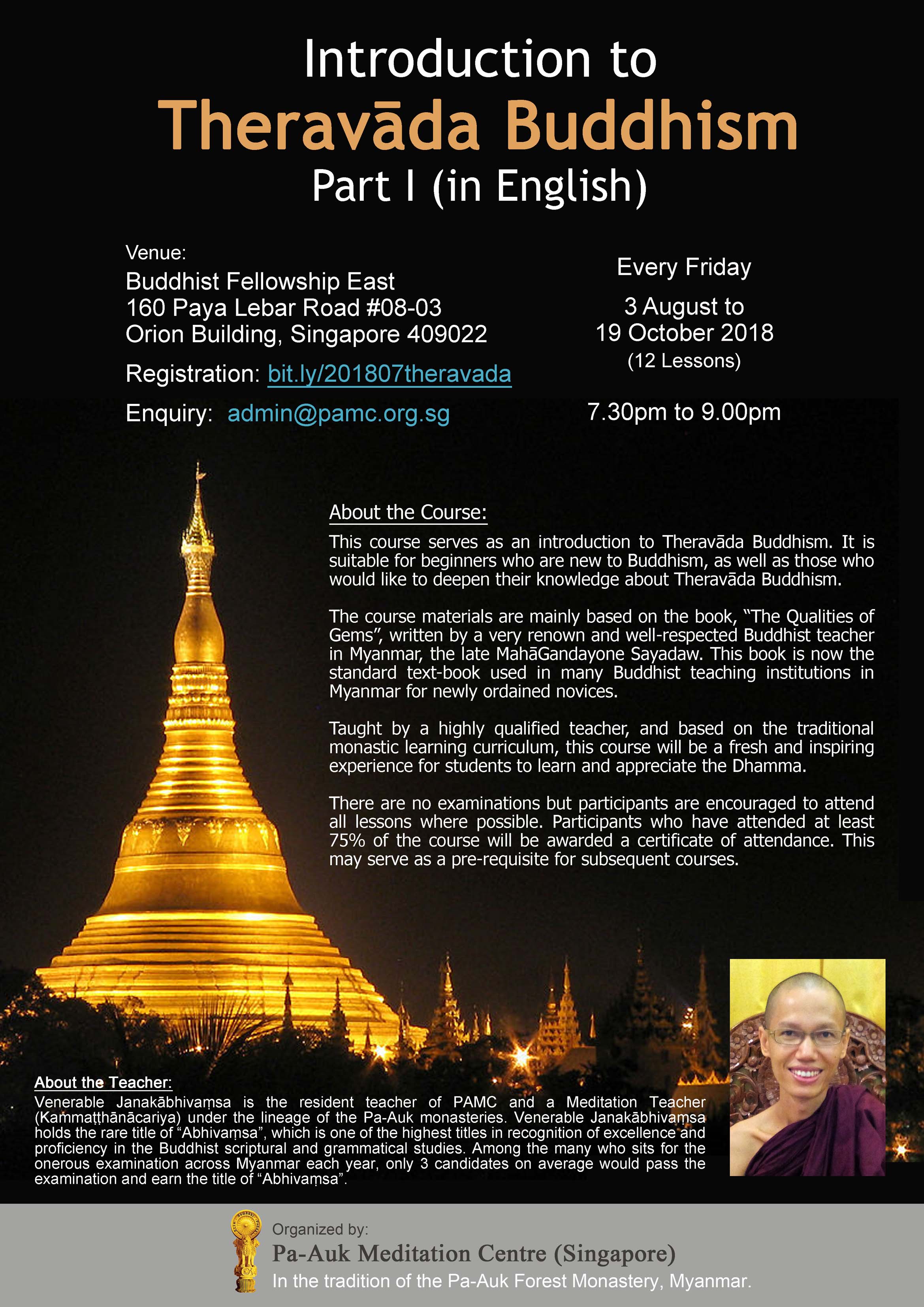 About the Course:
This course serves as an introduction to Theravāda Buddhism. It is suitable for beginners who are new to Buddhism, as well as those who would like to deepen their knowledge about Theravāda Buddhism.
The course materials are mainly based on the book, "The Qualities of Gems", written by a very renown and well-respected Buddhist teacher in Myanmar, the late MahāGandayone Sayadaw. This book is now the standard text-book used in many Buddhist teaching institutions in Myanmar for newly ordained novices.
Taught by a highly qualified teacher, and based on the traditional monastic learning curriculum, this course will be a fresh and inspiring experience for students to learn and appreciate the Dhamma.
There are no examinations but participants are encouraged to attend all lessons where possible. Participants who have attended at least 75% of the course will be awarded a certificate of attendance. This may serve as a pre-requisite for subsequent courses.
About the Teacher:
Venerable Janakābhivaṃsa is the resident teacher of PAMC and a Meditation Teacher (Kammaṭṭhānācariya) under the lineage of the Pa-Auk monasteries. Venerable Janakābhivaṃsa holds the rare title of "Abhivaṃsa", which is one of the highest titles in recognition of excellence and proficiency in the Buddhist scriptural and grammatical studies. Among the many who sits for the onerous examination across Myanmar each year, only 3 candidates on average would pass the examination and earn the title of "Abhivaṃsa".