Introduction To Tai Chi

Saturday, January 12, 2013 from 1:30 PM to 3:30 PM (PST)
Event Details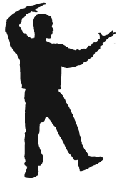 Introduction To Tai Chi and Qi Gong

You have likely heard of Tai Chi Chuan or read about it somehwere as a gentle art, or "those movements people do in the park", but do you know why millions of people practice this art around the world?  Why it has not only persisted around the world, but is now more popular than ever in our fast changing world?  Now is the perfect opportunity to understand more and find out if Tai Chi Chuan is right for you.

This is an introductory class providing an overview of the roots of Tai Chi Chuan, Qi Gong and the "internal arts", their classifications, training objectives (collectively and our style specifically) as well as an introduction to the very unique Jiang style Ba Gu Zhang that is taught here. 

How do the arts differ in their approach and training?

What do those differences mean to me over time and should I care?

What does Lau Kune Do offer that's similar or different than other schools?

Sifu McIntyre will be teaching these personally and will share with you his teaching modality, objectives and what you can expect to learn if being accepted as a student at our Temple.  You will also come away with a better understanding of what to look for and ask about if you are interested in other martial arts, or teachers in the area and provide you an excellent back drop of understanding.

This workshop will be a combination of interactive lecture and practical application introducing proper warm up, flexibility and body maintenance all in a live hands on format.
Join us for an informative and welcoming workshop and learn about how the arts can impact your life and how to make the most of what you have learned.
Registration is required, friends and guests are welcome but
please have them reserve as well.
*This event requires a minimum of 4 attendees to be held*

Special note: since this workshop involves movement, please come prepared with athletic shoes/sneakers, and loose fitting sweat pants (no jeans please) and a plain T-shirt.  You don't need to be fancy, but just comfortable and with closed toed shoes on.

When & Where

Lau Kune Do Kung Fu and Tai Chi
670 West 17th Street
Suite G4
Costa Mesa, CA 92627


Saturday, January 12, 2013 from 1:30 PM to 3:30 PM (PST)
Add to my calendar
Organizer
Newport Lau Kune Do
Newport Lau Kune Do Kung Fu and Tai Chi -
Sifu Paul McIntyre, S.E.R.T.+ System Founder
With over twenty five years of martial arts training, Sifu Paul McIntyre is a direct lineage Disciple in the Lau Kune Do system under Grandmaster Richard "Hing Wo" Tsim. 


Lau Kune Do combines the teachings of Wing Chun, Hung Gar and Northern Shaolin Kung Fu coupled with the internal teachings of Wu Style Taijichuan and Qi Gong as well as Jiang Style Baguazhang.  Combining these arts and unifying their essence has created an effective and well rounded art for all ages and personal objectives seeking to improve their life and health while working on individual optimization and growth through training and refinement.

He created the S.E.R.T.+ self defense system combining his experience in traditional martial training and five years of personal protective services earning a unique perspective on what works, where danger often hides and how to manage it as effectively as possible.  Using the bodies natural reflexes, coupled with the traditional strategies in hand to hand combat, he began to create a unique self defense system that addresses the very real issue of predatory violence, which is not combative in its nature or intent.

Many self defense and martial arts systems only focus on the target/attacker and how to "take him down fast" once the exchange begins with a combative mindset first.  This neglects the greater parts of the potential encounter and can overlook dominant predetory tactics and behavior instead focusing only on the exchange.  If trained properly, you can often avoid conflict all together while still learning to manage an attacker effectively.  The S.E.R.T.+ system addresses these each in detail with its four core areas of focus that will help you manage your environment more successfully and reduce your chances of freezing under stressful situations that could be life altering.