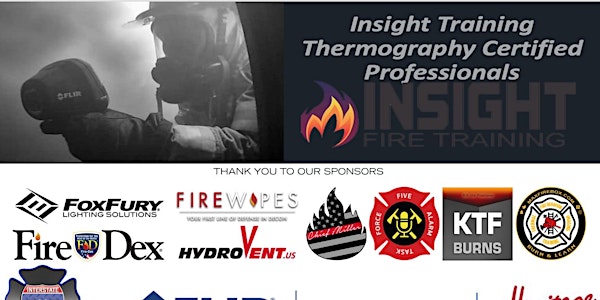 Introduction to Tactical Thermal Imaging
What was the temperature of the last hallway you crawled? The victim would beg to differ about our definition of heat.
Refund Policy
Contact the organizer to request a refund.
Eventbrite's fee is nonrefundable.
About this event
What was the temperature of the last hallway you crawled? But it wasn't that Hot?
Many firefighters often describe the environment based on feeling.
This is dangerous and inaccurate.
Our PPE, limits our senses from feeling pain until it's too late.
Once the TPP of our gear is saturated, our skin starts feeling pain and soon thereafter loses the ability to feel pain at all.
Many firefighters aren't aware of TPP, the thermal protective performance of their gear, and how it works.
Thermal Protective Performance is a rating of how long a firefighters gear will absorb energy before that energy is transferred to the firefighter in the form of a second degree burn. This is based on Alice Stoll's work.
In 1967, she wanted to improve the ability of heat transfer in fabrics to protect electrical workers, pilots, and firefighters. The term "second degree burn" didn't even exist until after her work.
She "voluntold" a group of navy sailers (since she worked at the US Navy Institute) and burned their forearms (Science!). From that research she discovered the following:
At 132 degrees direct contact a human victim will experience a second degree burn.
At 140 degrees of direct continued contact, a human victim's pain receptors are turned off.
At 162 degrees of direct contact, a human victim's skin is destroyed.
As much as 35% of the burn damage occurred AFTER the heat was removed. Therefore, it is of the utmost importance for firefighters to not just extinguish the fire but to bring each room down to much cooler temperatures prior to advancing.
The victim doesn't have the luxury of PPE and SCBA. At 185 Degrees of superheated gases after 20 seconds of exposure to a victims trachea is a fatal burn inhalation injury. So when we crawl through a living room and say "I didn't open the nozzle because it wasn't that hot or I was worried about steam." Steam would be a blessing in comparison to burning to death or breathing 3400 ppm of HCN or 1200 ppm of CO.
It is imperative that we as firefighters learn to diagnose the heat in the environment, erase the heat, and move towards the seat of the fire with a surgically precise intent. As we reduce temperatures, we create tenable space and reduce damage to the citizen's property.
And for those who argue that we are causing water damage; consider this:
Statistically, the nozzle stays open longer and more water is flowed during overhaul than during fire attack.
What if we put the water where it is needed, put the fire out faster, thereby saving more lives and property faster than ever before?
Learn about all this and more in our webinar: Introduction to Tactical Thermal Imaging.
Stay Intelligently Aggressive.
Instructor Andy Starnes
Insight Training LLC
Level II Thermography Certified