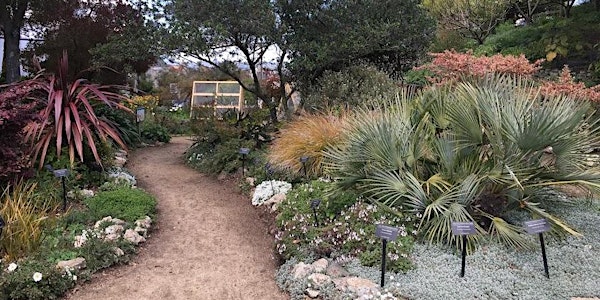 Introduction to Sustainable Gardening Series: Spring
Do you want to learn the basics of sustainable gardening design and care? Join us for this informative, hands-on, three-part series!
When and where
Location
Garden for the Environment 1590 7th Avenue San Francisco, CA 94122
Refund Policy
Refunds up to 1 day before event
About this event
Introduction to Sustainable Gardening Series - Spring 2022
March 5th, 12th, and 19th - Saturdays from 10am to 12pm. Cost: $30 for the full three-part series, and receive a $10 gift card at each workshop. Sponsored by the San Francisco Public Utilities Commission
The Introduction to Sustainable Gardening series is a three-part workshop series designed to help you transform your yard into a thriving, sustainable garden. This course will teach you everything you need to know to nurture perennial gardens that conserve water, provide beauty, and attract pollinators and beneficial insects.
San Francisco is a beautiful and unique city, with year-round mild temperatures and dry, foggy summers. Learn what plants are adapted to our coastal climate and grow without the need for toxic pesticides or large amounts of water. This course will focus on native and drought-tolerant ornamental gardens but will cover broad topics that can also apply to vegetable gardening.
The full series is $30, but you will get $10 gift cards to the Urban Farmer Store or Cole Hardware at each workshop (for a total of $30 in gift cards if you attend all three workshops).
Registering will sign you up for the full series of three workshops. Please only register if you plan to attend all three sessions.
SERIES SUMMARY:
Part I: Sustainable Garden Design This workshop will teach you how to design a beautiful, functional, and thriving home garden space. San Francisco urban gardens come with all sorts of unique challenges (fog, wind, steep hillsides, sandy soil) and it can be difficult to know where to start. Instructor Carey Craddock will provide information to help you evaluate and design garden spaces and choose plants to match the space, a principle called "Right Plant, Right Place".
Part II: Water-Wise Gardening This workshop will take a more detailed look at the many beautiful plants that grow well in San Francisco and how you can care for them without using lots of water. Even with San Francisco's dry and foggy summers, there is an amazing palate of climate-appropriate plants that will thrive here with little or no summer water so that you can conserve water and save on your bill. Instructor Ellyn Shea will teach you about all of this and also about how to water your plants properly and group them by similar water needs to help them reach their full potential.
Part III: Organic Pest Control Learn how a healthy and biodiverse garden can thrive without the use of pesticides. Ellyn will discuss the notion that most plant health problems are caused by poor growing conditions or improper planting, and that pests and diseases may be secondary problems. Plant health care involves a combination of strategies including monitoring, and you'll learn strategies to attract beneficial insects, and keep pests, diseases, and weeds at bay naturally.
Instructor Ellyn Shea is a Bay Area gardener, garden coach, Certified Arborist, consultant, and educator. She is a longtime Garden for the Environment teacher and supporter and shares her extensive gardening knowledge in this workshop series.
No walk-up registration permitted for this course.
COVID 19 guidelines: Starting March 12th, masks will be optional for vaccinated visitors (workshop participants, volunteers, students etc.) and required for unvaccinated individuals. As a reminder, our staff is fully vaccinated and boosted. Thank you for continuing to keep the garden a safe and open space for everyone!
You will be required to sign a liability waiver upon arrival.
Please cancel your reservation and do not come to GFE if you develop COVID19 symptoms on or before the day of your workshop (fever, chills, repeated shaking / shivering, cough, sore throat, shortness of breath, difficulty breathing, feeling unusually weak or fatigued, new loss of taste or smell, muscle pain, headache, runny or congested nose, or diarrhea)
GFE will continue to monitor the COVID19 situation in San Francisco and make any necessary changes to the workshop based on City guidelines.