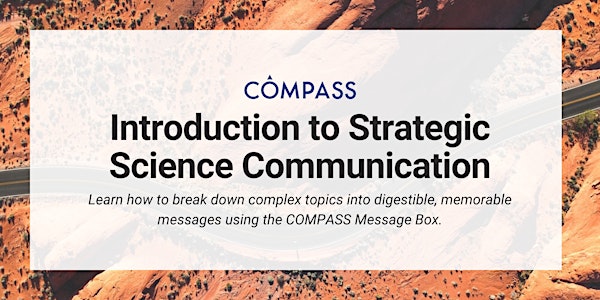 Introduction to Strategic Communication
In this 3-hour interactive virtual workshop, learn tools and strategies to help you communicate more strategically with diverse audiences.
Refund Policy
Refunds up to 7 days before event
Eventbrite's fee is nonrefundable.
About this event
We want to make a difference with our work but it can feel daunting to step outside the narrow confines of our communities of expertise. How can we make our research meaningful to a wider public? Grounded in the latest research on science communication, our Introduction to Strategic Communication workshop explores how to translate your work and build a meaningful connection with your audience so that they actually engage with what you're sharing. This workshop is for anyone who wants to engage with wider audiences and build their strategic communication skills. Whether you're presenting research, prepping for interviews, working with community members, making a pitch to a potential donor, writing public scholarship for a blog or larger media outlet, or just explaining what you do to a stranger, this COMPASS workshop will help you communicate more clearly, concisely, and compellingly.
In this 3-hour, interactive virtual workshop, you'll learn to use the Message Box, COMPASS's tool for breaking down complex topics into digestible, memorable messages for your specific audience. Our time together will include short presentations by COMPASS trainers on science communication insights and strategies, group activities, facilitated group discussion, and paired breakout activities with partners to workshop messages from your Message Box.
By registering for this workshop, you are agreeing to actively participate in all workshop activities, and to use a webcam during discussion and breakout room portions of the workshop when possible. Please note, we cannot admit participants who are more than 15 minutes late. If you find you are unable to join on time, please contact us immediately. More information can be found in our FAQ below.
Technology:
The workshop will be held on the video conferencing platform Zoom. If you are unfamiliar with the platform, this one-minute video explains how to join a meeting. You will need a webcam, microphone, and stable internet connection. Recommended upload/download speed is 5Mbps/5Mbps. Test your internet speed here by clicking "run speed test." This workshop will also incorporate the browser-based whiteboard program called MURAL.
FAQ's
Q. Who could benefit from this workshop?
A. This workshop is open to anyone who would like to engage with wider audiences and build their strategic communication skills. COMPASS's mission is to champion, connect, and support diverse science leaders to improve the wellbeing of people and nature, and in this capacity we've worked closely with professional researchers, scientists, scholars, and science users whose work focuses on the environment. Many of the examples we use in our workshop draw from this work. However, this workshop is suitable for anyone seeking to make their communication efforts more strategic and relevant for their audiences.
Becoming a better communicator is a practice, not a destination; wherever you are on your journey—just starting out or well on your way–, this workshop will provide you with an opportunity to practice communicating strategically about something that matters to you.
Q. I need to arrive late/leave early. Is that ok?
A. We are unable to admit participants who arrive more than 15 minutes late due to the progression of material presented. You will not receive a refund if you are more than 15 minutes late. If you unexpectedly need to leave the workshop during a portion of the event or early, we cannot guarantee we will be able to readmit you to the workshop, depending on how long you are gone. Part of the magic of our workshops is the peer feedback and peer-to-peer learning that takes place. To ensure that is possible, we need everyone to be present for the full workshop.
Q. My webcam doesn't work. Can I still attend?
A. Yes, as long as you will still be able to verbally participate in group discussion and paired exercises in breakout rooms.
Q. Can I call in to the workshop?
A. This workshop includes visual content viewed via Zoom screen sharing and browser-based content, so we do not recommend that you solely call in to the workshop.
Q. Will the workshop be recorded?
A. No. For the privacy and comfort of all participants, this workshop will not be recorded.
Q. Will there be other dates or opportunities to join a COMPASS virtual workshop?
A. Yes! To stay up to date on our virtual offerings, sign up for our newsletter on our website: www.COMPASSscicomm.org.
Q. What does it mean to be waitlisted?
A. We create a waitlist for workshops that reach capacity so that we can offer spots as they become available. If there is a cancellation and a spot becomes available, we will open up registration for the first person on the waitlist and then work our way down the list as other spots become available. We will contact you directly to let you know if a spot has opened for you.
Q. What is your refund policy?
A. If you have to cancel up to 7 days before the start of the event, you will receive an automatic full refund. If you cancel within 7 days of the event, you will receive a 50% refund. If you cancel within 24 hours of the event, you will not be eligible to receive a refund. If you cancel within 24 hours, have technological issues during the workshop, or unexpectedly need to leave the workshop early, we will determine on a case-by-case basis whether or not you can receive credit for a future workshop.
Q. Can I transfer my ticket to another person if I can no longer attend the event?
A. Yes! Participants are allowed to transfer their registration up to 24 hours in advance of the event. There is no charge to transfer registration, unless there is a price difference between the tickets.
Q. Can I purchase tickets for other people?
A. Yes! You will need to have the names and email addresses of the people for whom you are purchasing tickets. To complete the purchase, you may enter "N/A" for the additional questions in the order form. Once the tickets are purchased, an order confirmation will be sent to the purchaser and to each participant. The participants can then retroactively fill out the additional questions in the order form.