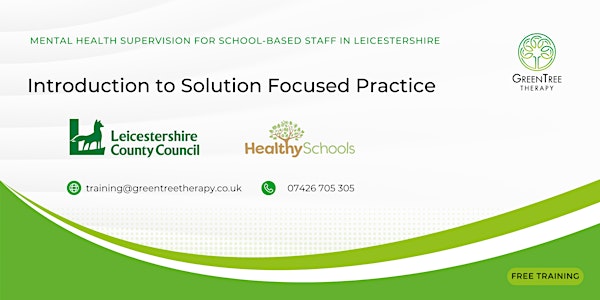 Introduction To Solution Focused Practice
Introduction to Solution Focused practice for school-based staff in Leicestershire.
About this event
Solution Focused Brief Therapy (SFBT) is a strength-based, future oriented model of talking therapy. It has a solid evidence base and is proven to be effective in short periods of time. Initially designed for use in therapy sessions, SFBT has developed and expanded into Solution Focused (SF) Practice and is now widely used in teaching, coaching, and supervision. Its conversational style is easy to integrate with existing practice.
This course will introduce you to key concepts and give you:
Familiarity with the Solution Focused approach.
Ideas for its application in your own work.
Some conversational tools that you can use straight away.
Following this course you will be offered the opportunity to join regular supervision sessions.