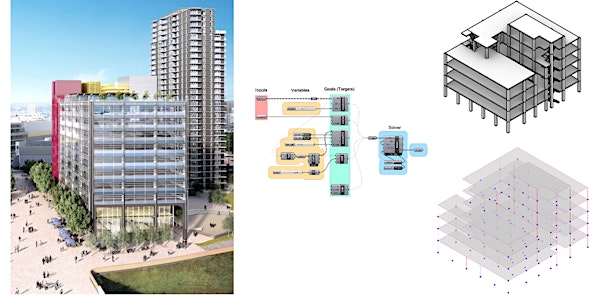 Introduction to Parametric Design
This hybrid presentation will introduce parametric design as a concept, showcase some of its uses, and then cover ways it can be used
About this event
Event description:
Parametric and Computational design methods have allowed for the creation of more daring architectural and structural forms over the past 20 years. From the early days of VB script and Matlab giving way to visual programming, we now operate with the addition of connectors and adapters such as Speckle and the BHoM Toolkit that allow for a more seamless workflow. While the focus of parametric design has been on complex forms and modern fabrication methods on some of the world's most impressive designs, the skillset can also be applied to the more typical day-to-day process to improve efficiency and eliminate repetition.
Buro Happold and 3DReid have collaborated to transform the way their consultants work together with the aim of challenging traditional methods of design and collaboration. This was carried out as a response to the UK's digital construction agenda, as set out in the Construction Playbook, where a drive towards more digital design methods is seen as a leading way to reduce embodied carbon in building structures.
This presentation will introduce parametric design as a concept, showcase some of its advanced uses, and then cover ways that it can be used as a design and collaboration toolset on small to medium sized projects.
The event will be a hybrid event hosted at Engineers Ireland and will also be streamed live on Engineers Ireland TV. A link to the stream will be circulated for attendees and in-person attendance will be at the following address:
Engineers Ireland,
22 Clyde Road,
Ballsbridge,
Dublin 4,
Ireland
Speakers:
Christopher Short, Senior Structural Engineer, Buro Happold Engineering,
Christopher has been working with Buro Happold as a structural engineer for 7 years. Based out of their head office in Bath, UK, Christopher has worked in offices and construction sites globally. Originally specialising in large transport interchange structures, Christopher has expanded his portfolio to include the residential, sports, and commercial sectors.
Christopher developed a keen interest in computational engineering early in his career, gaining experience on steel projects with complex geometry, long spans and modern fabrication methods.
In recent years, Christopher has looked to use computational engineering on more rudimentary processes to increase efficiency within the design teams and external collaborators.
Jake Hagan, Architectural Technologist, 3D Reid
Jake has been an architectural technologist at 3DReid for 4 years. Based in the London studio Jake helped with the delivery of multiple new-build residential schemes across the UK. From here Jake went on to aid with the technical design and digital management of projects within the commercial and aviation teams.
During this process Jake developed his awareness of digital processes and workflows, joining the digital transformation team in improving and futureproofing the way 3DReid works. His primary application within this space was the development of computational and programmatic skills for drawing and model production.
This interest has since developed into the wider application of computational process, with a keen interest in implementing DfMA solutions from an earlier point in the design process.