Description
Event Schedule:
Session 1: Sunday, 11/05/17, 1:00pm-3:00pm
Session 2: Sunday, 11/12/17, 1:00pm-3:00pm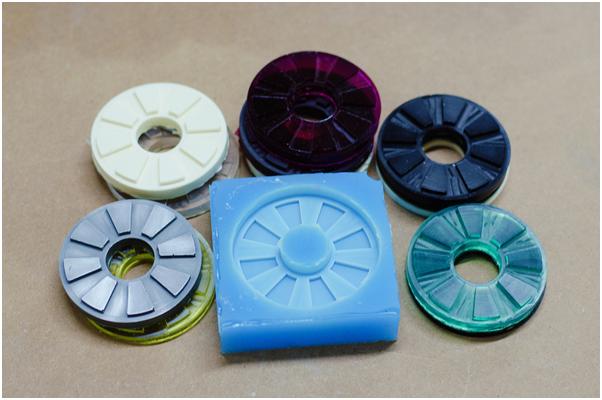 Class Description:
This two day course will go over the basic techniques used in molding and casting. Applications and safety will be discussed, as well as learning how to look at an object to determine the kind of mold to make for it. Students will then make mold chambers and build silicone rubber molds in which they will cast urethane plastic. At the end of the class, students will go home both with the molds that they have made and the resulting casts, and any spare material they have left over.
Objects from which to make copies will be provided by the instructor, but students are welcome to bring a small object (approx. 3 in by 3 in by 3 in) for casting on their own if they wish. Masters will be inspected for moldability in the scope of the class by instructor.
Day 1 will be focusing on molding, Day 2 will be casting.
Class Goals:
Students will walk away with the skills to make simple one part and two part block pour moulds and making casts from those molds. These techniques can be used in a variety of applications from engineering, robotics, and even replica prop making.
Prerequisites:
Students must be at least 18 years of age.
Materials:
Old clothes/ clothes you are willing to stain and long sleeves are reccomended. Long sleeves are reccomended for safety. Materials fee of $50 covering all materials: silicone rubber, urethane resin, and gloves is included in the ticket price and will be provide during class.
Small Objects to cast will be on hand for students or they may bring their own (it should fit in a 3 inch cube)
Class Minimum:
This class will not run with fewer than 4 students.
Instructor Biography:
Tam SP is a freelance design contractor and consultant. She has been working in wood, metal, and plastic shops since 2008. Tam has taught in the Asylum Woodshop since 2015. She works in many different mediums but has a current focus on CAD modeling. She has a BFA in Industrial Design and Sculpture.
---
ARTISAN'S ASYLUM STUDENT POLICIES
Purchase of a ticket expresses acceptance of A2's Refunds and Cancellation policies found here: https://artisansasylum.com/classpolicies/
Students: we love getting your feedback! Fill out this form to be heard!