Introduction to Mindfulness & MBSR [IN PERSON]

Multiple Dates
Event Details
In this free IN PERSON introduction to mindfulness and MBSR (Mindfulness-Based Stress Reduction) you will:
practice mindfulness to

learn about mindfulness and

explore the benefits of mindfulness

as it's adapted to use easily in daily life.

You'll also be able to ask questions.

You'll also hear about the 8-week MBSR course and find out:
what the course covers

how it can support your daily living and

how to register for an in-person course in the Philadelphia area.
The MBSR course is offered all over the world; whether you are in the Philadelphia area or not, you are welcome to stay on the call for information about the course.

---
MBSR offers a variety of mindfulness-based practices that help us meet the daily and extraordinary challenges of life with grace, acceptance, confidence and compassion.
Thousands of clinical studies now demonstrate the effectiveness of participation in MBSR or mindfulness meditation in reducing symptoms of stress related to daily life, anxiety, depression, and may other challenges.
If you're already interested in registering for the in-person course, visit here:
Mondays

(February 4 - March 25, 2013)

 
---
About the Facilitator
Bob Pileggi has more than 10 years of experience practicing and teaching meditation and yoga, having facilitated numerous classes, workshops and residential retreats.

Bob is committed to the fostering of empowerment, compassion, relationship, community, and collaboration.

Bob has been trained by the Mindfulness Institute at Jefferson University's Center for Integrative Medicine through it's MBSR Foundations Course, Teaching Practicum, and Internship (co-teaching a Foundations course).

Bob receives clinical supervision while teaching the course.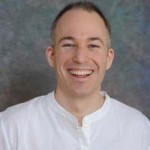 Bob Pileggi loves facilitating connection through presence practices – so that we can feel more fully alive, empowered to express ourselves, and connect authentically with others. Bob is a teacher, inspirational speaker, certified yoga instructor, mindfulness practitioner and instructor, internationally certified breath-work practitioner, licensed bodyworker, and ordained Interfaith minister. Bob works with individuals, couples, families, organizations and workplaces. www.bobpileggi.info
Organizer
Empowering Presence:
Community for Awakening Self Expression & Connection

Open the Body. Focus the Mind. Allow the Heart.
Inspiration & Facilitation for Experiencing Life, Self-Expression, Connection & Mindful Collaboration