About this Event
Mindfulness classes are a great chance for your child to be taught about their brain and the awesome things that take place inside it! They will learn how to take care of their hauora/well-being and learn strategies to help them become more mindful and resilient.
This innovative science-based programme is the brain child of the Inspire Mindfulness Programme Director, Rachel MacAllister – who is a qualified teacher. Your child will be led through 8 sessions which will help them to develop their very own superpower: Mindfulness.
Your child will not only learn about mindfulness and resilience, they will also learn about the science behind why we practice mindfulness. This helps to support your child with the importance of why they need to take care of their wellbeing. After all, when we know why, we are more likely to do.
Mindful movement, mindful eating and body scan practices are just a few elements of the programme. Your child will be taught how to notice their feelings without judgement. They will learn how to deal with "big feelings" as they occur. They will learn how to live in the present moment. Alongside this, your child will have the opportunity to build friendships with children the same age. We also have lots of fun and celebration of learning along the way!
What is included in the 8 week programme?
A weekly 40 minute session for your child to attend at the Fill Good Studio Cambridge - starting Thursday 15 October 3:20-4:10PM. Classes run on each Thursday until 3 December.
A mindfulness booklet with activities in. This also has details of what your child has learned in class.
Who is the programme for?
This programme is for all children who are in primary school. We think mindfulness is awesome for all children (there is plenty of science to show how great mindfulness is!). Just like we are taught about our physical health, knowledge of our mental health is for everyone too! There is no religious element to this course; our focus is on living in the moment and the science of the benefits of mindfulness. If your child has specific needs you wish to discuss with me prior to booking, please contact me on 02108534566.
What do people have to say about Inspire Mindfulness?
" Excellent programme and the most important learning a child can do."
"What a great opportunity for children to connect, make new friends and learn lifelong skills in mindfulness."
"Rachel I believe your programme is fantastic and teaches important life skills that all children should have the opportunity to learn. I don't see the type of work you do as a one off and was pleased to see your offered an extension and hopefully more courses I keep sending my daughter to so she truly embeds these important skills."
"You are amazing at what you do. My child loved your classes and loved learning about the brain."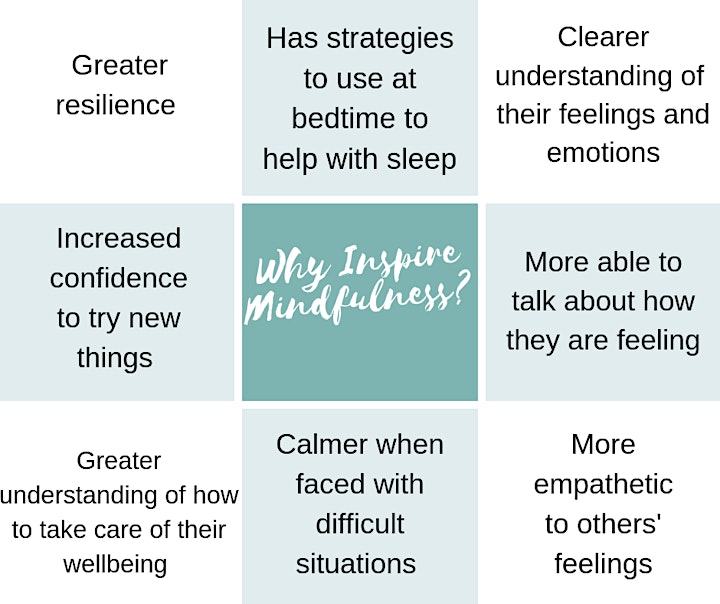 Who is my child's teacher?
Rachel MacAllister - Inspire Mindfulness Founder and Programme Director
"Before Inspire Mindfulness, I was a classroom teacher. I qualified as a teacher more than 10 years ago now. I loved teaching and the challenges it brought, but teaching children about their mental health is my passion. Sorry Shakespeare!
Why Inspire Mindfulness? After several years of teaching, it was clear to see that I was destined for a different way of teaching. There were so many times I was supporting student's wellbeing because they needed it more than the lesson itself. I decided that teaching children about their brain, could help them to understand their own feelings and reactions. I attended mindfulness training in the UK, thinking how much it would help the children I was teaching, but then realised how much I was enjoying it and how much I wanted mindfulness in my own life. It soon became part of who I am and, after developing my own practice over several years, the Inspire Mindfulness Programme was created.
Our vision is: Creating calm and resilient minds. I passionately believe that is what we do. We teach children about their brain, about their mental health, so that they have the knowledge and skills to flourish. If we can teach children about their mental health when they are young, I believe they will be able to understand and talk more freely about how they are feeling throughout their life. Mindfulness is beautiful - I'd love to share it with you!"
Rachel MacAllister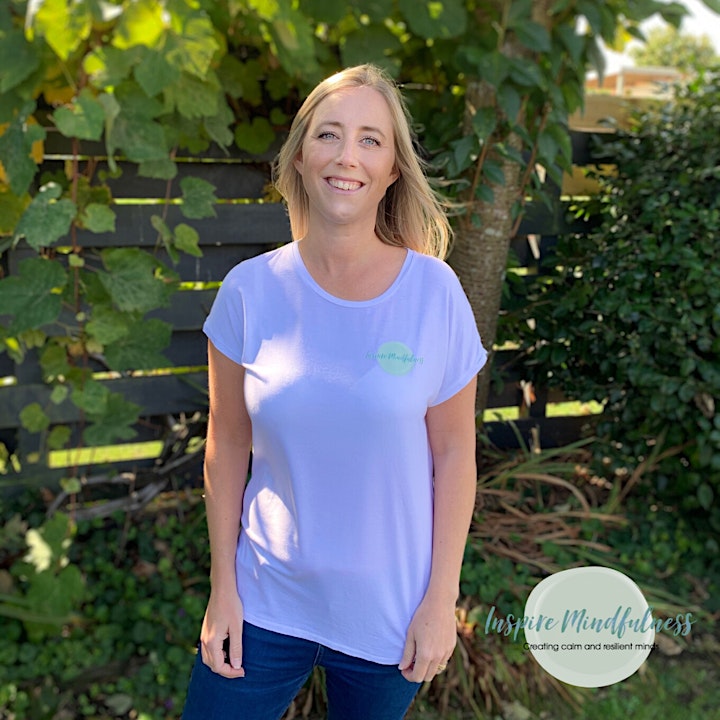 Booking terms:
Once your booking is complete and payment is made, your child is registered onto the programme. Please note that any cancellations within 14 days of the course starting are non-refundable. Any cancellation during and before this time will incur an admin fee of $10. Missed lessons are not refunded, however children are supported in class with any learning they have missed.
Any questions? Please contact Rachel on 02108534566.