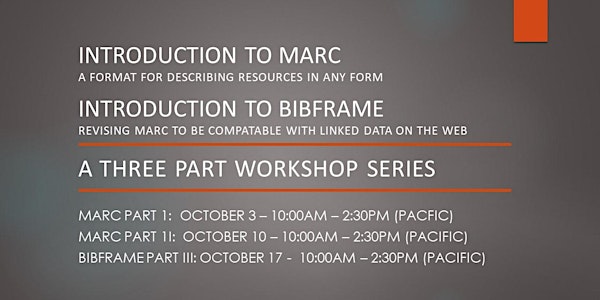 Introduction to MARC & BIBFRAME
A Three Part Workshop Series: October 3, 10, and 17
Refund Policy
Contact the organizer to request a refund.
Eventbrite's fee is nonrefundable.
About this event
INTRODUCTION TO MARC
A format for describing resources in any form
Part 1: October 3, 2022 | 10:00am - 2:30pm (Pacific)
Part II: October 10, 2022 | 10:00am - 2:30pm (Pacific)
Presenter: Rebecca Guenther, Metadata Consultant at Rebecca Guenther Consulting (she/her/hers)
MARC (Machine-Readable Cataloging) is a computer file format that allows for the description of bibliographic resources in any media format, e.g. books, serials, audio, video, computer files, etc. Part 1 (the first session) covers the development of MARC from its beginnings in 1968 through the present. This includes the development of special formats for all types of media and the process of integrating these formats into an international format used for communicating bibliographic descriptions between institutions. Thanks to bibliographic utilities such as OCLC, bibliographic data is exchanged worldwide. The history of MARC is described, including the MARC change process and the structure of MARC. How MARC is used for audiovisual material is reviewed, and its relationship to cataloging rules is discussed. Part 2 describes the MARC environment, including record sharing, and the development of MARC systems that support the bibliographic format and the authority, community information, holdings, and classification formats are introduced. More recent developments of XML formats, such as MARCXML and MODS, and the development of Dublin Core are introduced. The need for a new format that integrates with other systems on the Web is described, and that format is BIBFRAME. The session will include exercises using MARC data elements in general and how they're used for audiovisual material.
Topics That Will Be Covered:
History of MARC
Structure of MARC
Application of MARC for audiovisual material
MARC and cataloging rules
The MARC environment
XML formats and MARC
MARC systems
Integrating with other systems on the Web
________________________________________________________
INTRODUCTION TO BIBFRAME
Revising MARC to be compatible with Linked Data on the Web
Part III: October 17, 2022 | 10:00am - 2:30pm (Pacific)
Presenter: Rebecca Guenther, Metadata Consultant at Rebecca Guenther Consulting (she/her/hers)
This session covers how the Internet influenced MARC as well as how MARC influenced the Internet. The development of new technologies and models are reviewed as is the development of Linked Data and the Linked Data model. This session describes principles established in envisioning MARC as a Linked Data format and how the MARC formats conform to a Linked Data model. How BIBFRAME will enable integration with other Linked Data based systems is discussed. Lastly, we will look at the Linked Internet Movie Database (IMDB) and its trial implementation as a Linked Data system. The session includes an activity utilizing the Linked Data model with audiovisual materials.
Topics That Will Be Covered:
Influence of the Internet on MARC
Influence of MARC on the Internet
Development of new technologies and models
Development of Linked Data
Linked Data model
Development of BIBFRAME
Integrating with other Linked Data based systems
LinkedMDB
Prerequisites: Participants are required to take both workshops in Part 1 to attend Part 2. They should also be familiar with archival film, audio, and video formats.
_______________________________________________________
Rebecca Guenther (she/her/hers) has 40 years of experience in national libraries, primarily working on library technology standards related to digital libraries. Most of her professional life has been at the Library of Congress developing national and international standards related to metadata. She has served on numerous standards and implementation committees, several as chair, is widely published in professional literature, and has given many tutorials, workshops and presentations. These include (among others) chair of the PREMIS Working Group and Editorial Committee and chair of the ISO 639 Joint Advisory Committee on Language Codes, She recently began to explore use of semantic web technology and the potential of linked data in her work as project manager of LC's Authorities and Vocabularies Web Service. After 31 years at the Library of Congress she left in August 2011 to work as a consultant on metadata development and planning in New York City. In May 2012 she resumed work for the Library of Congress, working from New York on the Bibliographic Framework Transition Initiative, the PREMIS Editorial Committee, and the MODS Editorial Committee. She is also an adjunct professor at New York University in the Moving Image Archiving and Preservation Program.
"Digital Pioneer: Rebecca Guenther," The Signal, Library of Congress Blog http://blogs.loc.gov/digitalpreservation/2011/07/digital-pioneer-rebecca-guenther/