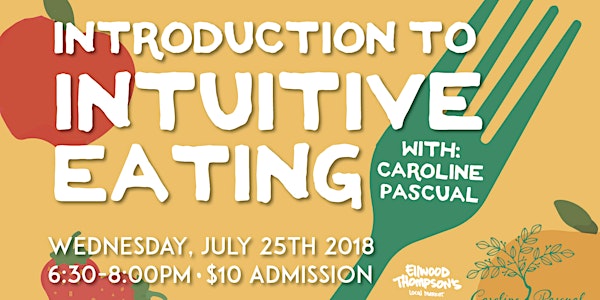 ​Introduction to Intuitive Eating
When and where
Location
The Beet at Ellwood Thompson's 4 N Thompson St Richmond, VA 23221
Refund Policy
Refunds up to 1 day before event
Description
Does this cycle sound familiar?
"I feel dissatisfaction with my body"
*Plans to make a lifestyle change*
*Eat all the foods that will be restricted or banned in preparation for the upcoming change*
*Starts the plan*... "I got this!"
*Stays on the plan for a week? A month? 6 months? A year?*
*Loses some weight (but never enough), get lots of compliments*
*Experiences an inevitable stress/celebration/temptation (because life happens)*
*Eats something off-plan (probably quickly, maybe in secret, usually more than intended)*
*Experiences shame, frustration, and self-blame*
*Eats all the food while saying "I will start again tomorrow" (or on Monday…)*
*Gains back the weight, sometimes plus a little more*
*Feels dissatisfaction with your body*
*Makes a new plan* ​
There is a way out of this cycle of dieting. Come learn about the 10 Principles of Intuitive Eating, a body-positive approach that is rooted in self-compassion, satisfaction and a rejection of the many (often conflicting) food rules we've been taught by diet culture.
About the Instructor
Caroline Pascual is an RN, Mind-Body Health Coach and Certified Intuitive Eating Counselor who sees individual and group clients to help work through their relationship with food and body. She worked at Zacharias Ganey Health Institute for the past 6 years and recently left to pursue her private coaching practice. ​
During her time at ZG, through both working with clients and her own personal experience of over-training and serious injury, Caroline began to wonder about the methods she was employing to create "health". Her clients were frustrated by the cycle of perpetual dieting and she was frustrated that she didn't seem to have answers for them within the realm of traditional wellness models. Caroline recognized that, despite efforts that were often all-consuming, the things her clients were trying were not working. She began to question whether there was another way. Through this inquiry, Caroline discovered the world of Intuitive Eating, body acceptance and Health At Every Size®. She is a Mind-Body Health Coach through the Institute for the Psychology of Eating and has completed the requirements to become a Certified Intuitive Eating Counselor. She plans to attend graduate school to become a therapist specializing in body image and self-acceptance.
Caroline is deeply connected to this work and has seen the transformation it creates in the lives of her courageous and fearless clients as they navigate the path of a new relationship to food and body. She is there to offer radical compassion to her clients until they are able to give it to themselves. ​
Questions?
We love 'em! Email us at TheBeet@EllwoodThompsons.com or call 804-359-7525.