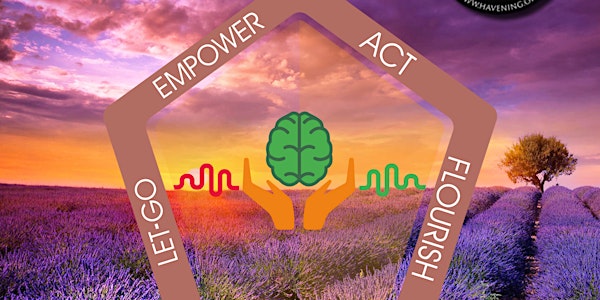 Introduction to iL.E.A.F.: Optimise Your Resilience and Wellbeing (Monthly)
Introduction to iL.E.A.F. workshops for people interested in Letting-go of toxic stress, building resilience, health and wellbeing.
Refund Policy
Contact the organiser to request a refund.
Eventbrite's fee is nonrefundable.
About this event
Introduction to our iL.E.A.F. workshops and Radical Self Care program for people interested in overcoming toxic stress, building resilience, improving health and wellbeing and letting-go of traumatic stress from ones mind.
The workshop is split into 2. First 2 hours is the Resilience workshop, the last hour is for 2022 Goal Setting. Ticket options are for with or without the workshop workbook. Also for with or without the Goal Setting session.
Learning Outcomes:
1.Why this topic is so important right now
2.The connection between 4 main types of stress and 4 types of resilience.
3.Impact of chronic and traumatic stress on lifestyle, health and wellbeing.
4.Introduction to neuroscience informed tools to optimise a resilient mindset and personal performance
5. The basics on how to start LetGo of traumatic stress from ones mind.
Extra's:
If you have purchased the ticket with 2022 Goal Setting Session and Goal Setting Tool you will be sent the Turn Over A New LEAF Goal Setting Tool.
We will be promoting the book Winning Mindset: Elite Strategies for Peak Performance in which chapter 5 was written by the Trainer. It would be helpful if you will have read this before the session but not essential. It can be purchased via Amazon for as little as £2.20 https://www.amazon.co.uk/dp/B09HX4MZQH
You will leave with:
- a basic awareness of the importance of emptying out your resilience bucket and how this can be done
- feeling measurably less stressed.
One attendee at last workshop said:'This was so much needed in my life right now, I've been struggling for a while now and particularly due due to stress frustration and burnout. The techniques suggested by Jan and the co host were so useful. I will be employing them into my day to day life!!! I will practice this whenever I identify anxiety arises, as well as when going to bed'
About the Trainer
Jan Carpenter, Founder of Turn Over A New LEAF.
Jan is a Social Worker of 20 years, to team manager level, and has over a decade of expertise in helping individuals address lifestyle issues and make practical steps to improve their stress levels, resilience and wellbeing. Jan is a certified Personal Performance Coach, NLP practitioner and Havening Techniques® practitioner and trainer. Jan is also a co-author of a book called Winning Mindsets published in September 2021.