Introduction to iJava Workshop 2012

Monday, August 6, 2012 from 10:00 AM to 4:00 PM (EDT)
Event Details
Introduction to iJava Workshop:
Improving Student Success in Introductory Programming
Monday, August 6, 2012
10 am - 4 pm workshop, including lunch.
Workshop hosted by CAITE and led by Prof. Robbie Moll of UMass Amherst
UMass Amherst, Computer Science Building
140 Governors Dr, Amherst, MA
CAITE is offering a workshop by UMass Amherst Computer Science Associate Professor Robert Moll, the inventor of iJava, on Monday, August 6. This workshop covers the principal features of the text and associated course from the perspective of both students and instructors. Various iJava teaching tactics are discussed, and their relevancy for high school and community college classes are highlighted.
What is iJava?

iJava is a web-based interactive textbook for elementary Java instruction. It is suitable for beginners with no previous programming experience. When you learn using iJava, you type real code at the text, and the text tells you - immediately - if your code is correct. This makes iJava a superb learning-by-doing educational tool.
What is iJava? iJava is more than an elementary interactive textbook. The system comes with an extensive homework system involving hundreds of problems, most of which involve programming. When you work these as a student, you get immediate correctness judgments. As a teacher, you set release and due dates for a homework assignment.
iJava has a track record. It has been used as the basis for hte first course in the UMass Amherst computer science major more than a dozen times, with great success, and has now been used at many high schools and colleges as well.
Space is limited. Advance Registration Required by July 27
Who should attend?
Computing and technology educators (community college, college, or high school) with some programming background. Previous knowledge of Java preferred, but not required. If you are currently teaching programming to your students and want to learn about and hope to implement iJava in your class, this workshop is for you.
Cost:
Free, lunch provided; possible stipends for educators who are not on year-round contracts. Note on your registration form if you require a stipend and/or a certificate of completion.
Please plan to bring a laptop that supports Java. Note on registration if you need a laptop.
Parking will be in lot 31 off Governors Dr (opposite the Computer Science Building). Parking passes will be available at the check-in table day-of. Please do not park in the Campus Garage.
More about iJava:
 http://ijava.cs.umass.edu/
When & Where

140 Governor's Drive
Computer Science Building
UMass Amherst
Amherst, MA 01003


Monday, August 6, 2012 from 10:00 AM to 4:00 PM (EDT)
Add to my calendar
Organizer
CAITE (Commonwealth Alliance for Information Technology Education) is based at the University of Massachusetts Amherst and works to address underrepresentation in information technology (IT) education and the workforce. The project is active throughout the state of Massachusetts as part of the Expanding Computer Education Pathways (ECEP) Alliance.

Through its work in K-12 and higher education, CAITE's mission is to broaden participation and success in computing and IT. Current efforts are focused on the following:  
• Curricula and standards in Mass. K12 public education
• Professional development for educators
• Youth programs to increase interest and career awareness
• Educational pathways from community colleges to bachelors-degree institutions

More information at: www.caite.info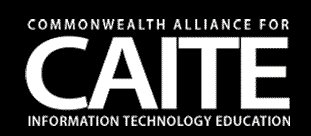 MECSP (Massachusetts Exploring Computer Science Partnership)'s goal is to broaden computer science (CS) education across MA through the expansion of the Exploring Computer Science (ECS) course in high schools. MECSP will build an effective multi-sector collaboration for the ECS course and professional development model, building a cadre of Teacher Leaders who prepare other teachers to engage greater numbers and a greater diversity of students in CS education and the workforce. MECSP's focus on reaching students from underrepresented populations ensures that it has great potential to address significant equity issues within CS and to expand access to college preparatory CS courses for a diverse population of MA students.

Sponsored by CAITE, an NSF CISE Broadening Participation in Computing Alliance, and the Massachusetts Exploring Computer Science Partnership (MECSP). This material is based on works supported by the National Science Foundation under Grants CNS 1339300. Any opinions, findings, and conclusions or recommendations expressed in this material are those of the author(s) and do not necessarily reflect the views of the National Science Foundation.