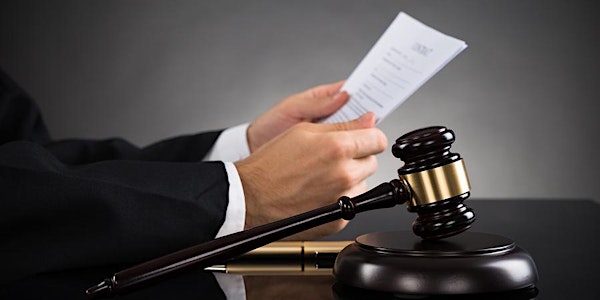 Introduction to Forensic Handwriting Examination - MCLE
When and where
Location
San Diego Law Library - Downtown San Diego Location 1105 Front St. Training Room San Diego, 92101
Description
About the Program
1 Hour General Participatory MCLE

Cases such as contracts, probate, and other civil matters occasionally turn on whether a document was signed by or written by a given person. In these instances an attorney turns to a trained forensic handwriting examiner to determine the authenticity of the writing. This presentation introduces the legal professional to the methodologies used by forensic handwriting examiners for determining the authenticity of handwriting and signatures.
As an attorney or paralegal, you will learn potential questions to ask a forensic document examiner in order to learn whether they are the right person to partner with on your case. The majority of work performed by a forensic document examiner is authentication of handwriting. The majority of this work is authentication of signatures. Advances in computer software has made this work more accurate than in prior times. This work often requires skill in matching patterns of writing. The underlying basis for handwriting comparison is learning the different ways a person writes across writing sessions. The forensic document examiner examines the writing in question to learn whether it fits within the patterns observed in the person's known writing.
Topics covered are:
Handwriting identification techniques
The 21 attributes of handwriting examined by forensic document examiners
When are various tools used to examine handwritten documents?
What are generally accepted methods of examining handwritten documents?
What is the basis of handwriting comparison?
What is the difference among simulated writing and disguised writing?
About the Speaker
Mike Wakshull is a court-qualified forensic document examiner located in Temecula, CA. He partners with attorney clients to deliver results that often lead to early settlements in favor of the counsel who retained him. When cases go to trial, he presents them in jury-speak rather than techno-geek to educate the triers of fact. He applies his technical and science training to present a science-based approach to his opinions—a court requirement.
Mike has authored two books on the topic of forensic document examination. He has presented at several international forensics conferences. A member of several industry-related associations, he serves of the board of two. Mike has had forensic document examination cases from fourteen states.
Mike was chair of the 2012 National Association of Document Examiners conference, the 2014 Scientific Association of Forensic Examiners Conference, and the 2015 Forensic Expert Witness Association conference.
He has been qualified as an expert witness in California Superior Courts and Federal District Court, testifying in cases involving will contests, contract disputes and others. Questioned documents discovered include an altered deed, cut‐and‐paste signatures, altered mortgage documents, altered handwritten documents, electronic documents, and many other types of questioned documents. Mike is one of a handful of forensic document examiners with a graduate school certificate in forensic document examination from an accredited university.
Mike is a member of the National Speakers Association. He was an invited speaker at the annual conference of the National Association of Document Examiners (NADE), Association of Forensic Document Examiners (AFDE), World Congress of Forensics in Chongqing, China, National Institute of Standards and Technology (NIST), and others.
For more information, check out Q9 Consulting, Inc.
About Cancellations
To cancel your registration, please call (619) 531-3900. To receive a refund, you must notify us 72 hours in advance. Refunds may take up to 2 weeks to process.
Participant Release
This class may be recorded by LexVid and may be made publicly available online. Please note the release below.
Registrants for this class acknowledge that during the program their photographic or videographic images may be incidentally taken. Registrants agree that the submission of their registration for this class constitutes their written consent to the San Diego Law Library and LexVid Services, Inc. to such filming and/or recording to any use, in any and all media, of your appearance and voice for any purpose in connection with the video production of this class.
If you have any questions or concerns, do not hesitate to us at (619) 531-3900.