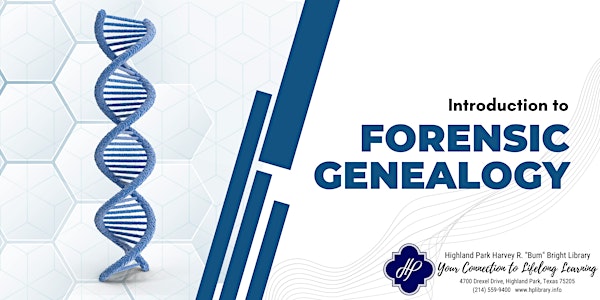 Introduction to Forensic Genealogy
Presented by professional genealogist Kelvin L. Meyers.
Date and time
Saturday, April 15 · 11am - 12pm CDT
Location
HIGHLAND PARK HARVEY R. "BUM" BRIGHT LIBRARY 4700 Drexel Drive Dallas, TX 75205
About this event
Introduction to Forensic Genealogy
This course will give the participant an overview of forensic genealogy and the role of the genealogist in these types of cases. We will discuss some of the major types of cases in which a forensic genealogist may be involved, such as guardianship, oil and gas, unidentified and unclaimed persons, and probate. The role of the forensic genealogist as an expert witness will also be discussed.
Adults 18 and up.
About the Speaker
A fifth-generation Texan and professional forensic genealogist since 1990, Kelvin is a frequent speaker to genealogical societies and family associations throughout the United States. As a graduate of Texas Tech University with a history major, Kelvin is an avid research historian. After being employed for ten years in the Genealogy Department of the Dallas Public Library, Kelvin now has a solo practice as a forensic genealogist serving clients that include probate attorneys, trust department of banks, the U.S. Immigration Service, and energy companies. Kelvin is a 1989 and 1990 alumnus of the Institute of Genealogical and Historical Research at Samford University and has returned to IGHR as a lecturer. He is a past board member of the Association of Professional Genealogists, a past President of the Lone Star Chapter of APG, and a founding member of the Advancement of Forensic Genealogy. Kelvin currently serves as the chairman of the history and archives committee for First United Methodist Church in Dallas.