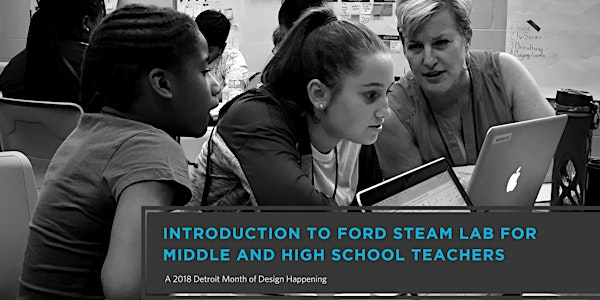 Introduction to Ford STEAM Lab for Middle and High School Teachers - a 2018...
Location
Grand Valley State University Detroit Center
163 Madison Street
Detroit, MI 48226
Sales Have Ended
Registrations are closed
If you would like more information about how to bring Ford STEAM Lab to your school or organization, please contact us at fordsteamlab@hfli.org.
Description
Ford STEAM Lab (fordSTEAMlab.org), a free digital curriculum, features a "hackathon" style process of introducing middle and early high school students to careers in STEM and Tech Entrepreneurship. In this happening, educators will work collaboratively to address an ongoing challenge -- one related to expanding student learning opportunities -- as a way to engage directly with the instructional resources. You'll experience the curriculum first as a learner, then explore its flexibility, intended outcomes, resources needed for implementation and instructional supports available. Lunch will be served.
Parking is available in the 850 Witherell Lot adjacent to the Detroit Center with an entrance on Witherell Street. The cost to park in the lot varies depending on the time of day and if any city events are occurring (sporting events, concerts, opera, etc.). If there are no downtown events scheduled, the lot costs $7. This is a credit card only lot. There are also many other lots and street parking available within a short walking distance of the GVSU Detroit Center.