How to give & receive the ultimate pleasure -a deep dive into Extended Orgasm for singles & couples. Our most practical course yet!
About this Event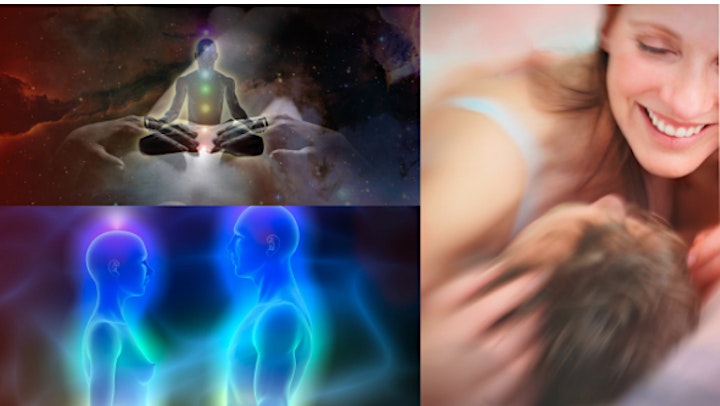 **Pricing is per person, not per couple.
As we know, sexuality is an integral part of any romantic relationship. Even with the best intentions, it is hard to develop the skills, practice, and awareness on your own. That is why we are hosting this online event.
If you are single and still looking for your soulmate being educated about extended orgasm and how to have even more pleasure will give you major leverage in attracting someone to you.
If you are in a relationship and wondering how to keep it exciting, becoming proficient in having and extending orgasm and pleasure can keep you in an ever-increasing Honeymoon period where the attraction and sexual satisfaction keeps increasing.
Orgasm is a largely misunderstood, misrepresented and unexplored part of our sexuality and a place that can transform a future or current relationship. Extended Orgasm is the understanding, exploration and mastery of this powerful experience of pleasure and sensation.
Extended Orgasm is a critical part of the Davon Method that has been taught by Alicia and Erwan Davon to thousands of students helping them accomplish their true relationship goals.In this 3 hour virtual workshop you will inquire into orgasm and pleasure, and learn the basics of how to extend the experience. Erwan and Alicia have 25 years of supporting both singles and couples in this art, and they create an environment inside which everyone can be at ease and comfortable in their introduction to one of life's greatest pleasures, orgasm, taken to new heights.
The course will include lecture/discussion, sharing exercises and Q&A about how to give and receive Extended Orgasm. You'll also see a close up video of a woman in extended orgasm, and you will see the technique and be trained in the step by step essentials of the technique. There will be no nudity or explicit sexual activity on the participants' part.
Orgasm is a very personal practice that requires real care and attention. Erwan and Alicia are the only Bay Area couple who have taught Extended Orgasm to thousands of students and helped them reach their sexual and relationship goals. As a married couple, they have been teaching singles to get into relationship and couples to thrive in relationship, with an emphasis on developing a regular practice of extended orgasm for 25 years.If you have ever wondered if taking your sex skill to the next level could improve your relationship and relationship building skills then we invite you to register yourself today.
All participants that are not already in an ongoing program with us will receive a free follow up coaching session after the course.
If you have any questions please email alicia@erwandavon.com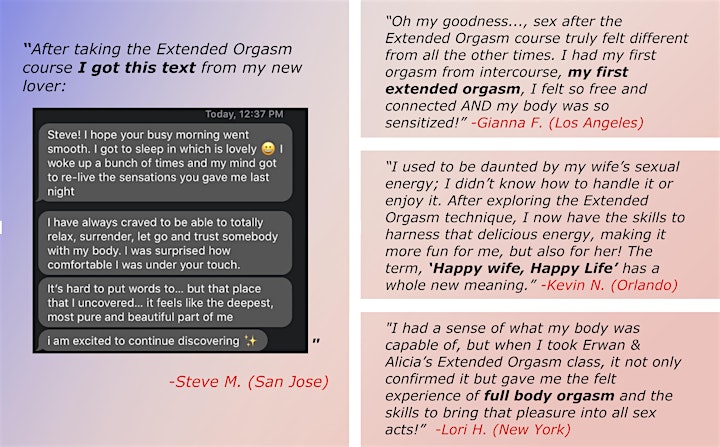 Your Facilitators:    
For over 25 years Erwan and Alicia, who joined Erwan in 2003, have been working successfully with singles and couples, teaching their signature process – the Davon Method to hundreds of students in groups, retreats, and individual sessions and helping them create the relationships of their dreams.
Erwan and Alicia have a unique approach to relationship coaching that combines their educational backgrounds in psychology and sexuality and aspects of Zen Buddhism to provide a holistic method to effectively improve connection with the self and others.
Erwan studied psychology after a difficult childhood and an early introduction to therapeutic work. He went on to live and study in a Zen Monastery, direct a yoga ashram, and began teaching personal development at one of the world's largest personal grown organizations. Erwan's passion for helping and teaching people led him to found Erwan Davon Teachings in 1995, specifically to help people improve their relationships.
Alicia Davon holds a Master's degree in Integral Psychology with a focus on women's romantic and sensual expression. She trained as a therapist before meeting Erwan and led numerous women's groups devoted to female pleasure and life fulfillment from career to relationship. She met Erwan 15 years ago and started teaching with him soon after.
Together, Erwan and Alicia developed The Pleasure Course and several other programs, which have helped thousands achieve their ideal love lives. They provide a safe place to explore psychological inquiry, pleasure, and sexuality.
They have spent years perfecting their curriculum and techniques and are excited to share their expertise with newcomers so they can help improve chemistry, connection, communication, and passion in others' lives!
 For more events, visit our website: https://www.erwandavon.com/events
Date and Time
Location
Refund Policy