This class is part of our 6-part Introduction to Embroidery Series. The subject of this class is "Traditional Insect"
About this event
Login information will be emailed to you a week prior to class.
Class length: 5 hours
Skill level: Great for beginners or anyone wishing to brush up on their embroidery skills
Class Description: This class is part of our 6-part Introduction to Embroidery Series. The subject of this class is "Insect". You will stitch a traditional design. This class will cover the following stitches:
• laid work
• whipped wheel
• couching
• buttonhole stitch
• buillion knot
• buttonhole bar
• ermine filling
• whipped backstitch
Our Introduction to Embroidery Series will introduce you to foundational embroidery skills such as how to thread the needle, how to start and end your threads, and how to use an embroidery hoop. You will have the opportunity to practice stitching with four different kinds of threads: wool, cotton, metallic, and silk. In addition to the fabric for the finished design, you will be provided with a "doodle cloth" for practicing your embroidery stitches.
This series consists of six different classes. Each one has a different subject matter (i.e. Animal, Flower, Building), a traditional design or a contemporary design. You can take as many of the classes as you like and in any order that you wish. You will learn eight different stitches in each class, or a total of 48 stitches if you take all six!
Kit Contents: needles, linen fabric, threads (cotton, wool, silk, metallic)
Supplies: All materials will be mailed to you prior to the start of class. You will need to supply a pair of scissors.
Class Minimum: 3 students
Registration for this class closes 2 weeks prior to the start date in order to allow for the shipment of kits for domestic shipping and 4 weeks prior for international shipping. If you would like to inquire about the possibility of late registration, please contact info@sfsnad.org. Late registration will be accommodated when possible with an additional expedited shipping fee.
Cancellation policy: SNAD will refund tuition less a $25 processing fee up to 3 days (72 hours) prior to class start time. No refunds for cancellations with less than 3 days notification before class start time.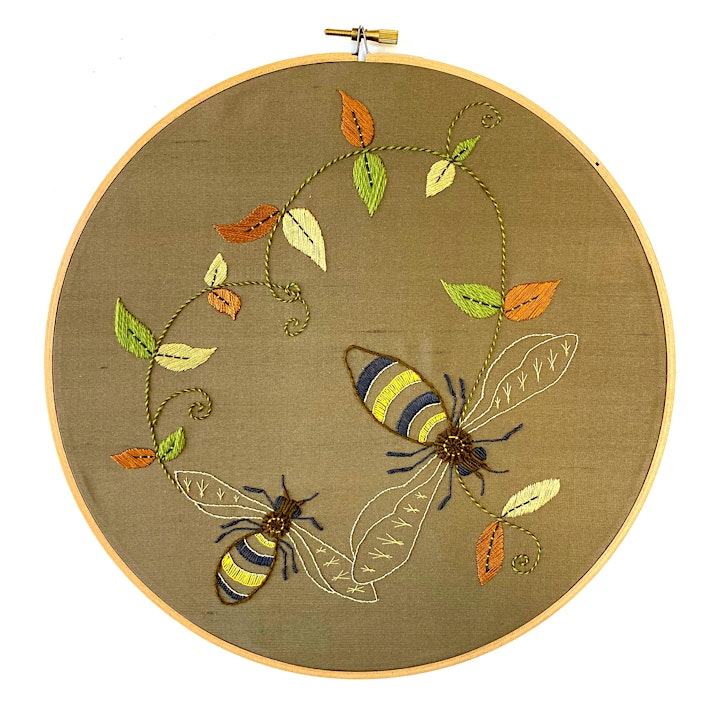 Organizer of Introduction to Embroidery: Traditional Insect
San Francisco School of Needlework and Design (SNAD) is a hand embroidery school whose mission is to promote and share the knowledge and history of hand embroidery to ensure its future as a valued art form. At SNAD we teach students of all levels, from beginners to professionals. We have a library of over 2,400 volumes on embroidery and related subjects. Join us for free Stitch-Ins every Wednesday and on the second Saturday of the month from 11am-4pm.