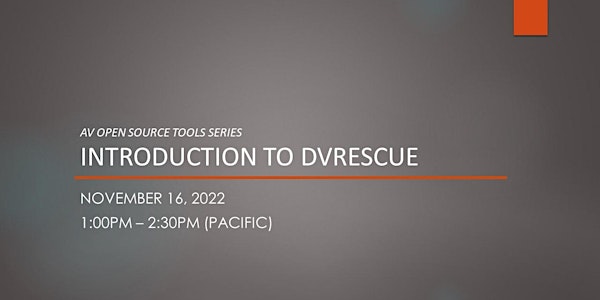 Introduction to DVRescue
A training workshop to assist in audiovisual processing and quality control procedures for DV videotape formats at archival institutions
Refund Policy
Contact the organizer to request a refund.
Eventbrite's fee is nonrefundable.
About this event
This webinar will be a training workshop to assist in audiovisual processing and quality control procedures for DV videotape formats at archival institutions. The workshop shall include a focus on capturing methods for DV, quality control of the result, and DV format particularities for packaging and access. Participants will gain hands-on experience learning how to use the DVRescue toolkit for capture, quality control analysis, resolving artifacts, packaging videos for long term preservation, as well as other general best practices for working with DV. In addition, presenters will go over a summary of the overall research and deliverables of the DVRescue project — which were initially developed by MIPoPS and RiceCapades with funding from the National Endowment for the Humanities.
Presenters
Libby Savage Hopfauf, Program Manager/Audiovisual Archivist, Moving Image Preservation of Puget Sound, MIPoPS + Audiovisual Archivist, Seattle Municipal Archives (she/her/hers)
Dave Rice, Moving Image Archivist, CUNY TV (he/they)
Topics
DV videotape
DVRescue
Capturing software
Quality control software
A/V preservation
Demonstrations and hands-on training will feature key components of the DVRescue toolkit, including:
dvcapture: a tool to facilitate the most complete and accurate transfer of DV video from tapes to files.
dvanalysis: support visualization of uncorrected DV data, including categorizing DV transfer errors, illuminating when selective re-transfer may be most likely to offer improvements, and providing a method to easily distinguish authentic DV data, from error concealment techniques, and unconcealed damage (using dvmerge).
dvpackager: used to rewrap a raw DV stream into preservation files based on a set of characteristics.
dvguidance: universal training materials and tools that address a range of learning styles and skill levels. One of the main goals of the DVRescue project is to create open source tools for the greater archival community, coupled with interfaces and documentation that makes their use intuitive and accessible to all skill levels and learning styles.
Prerequisites/software requirements
A computer (capable of connecting to a deck via FireWire if wanting to try out dvcapture)
Full instructions from DVGuidence for installing required software:
macOS
Windows/Linux
A day or two prior to the workshop, download the latest daily build for GUI and command line from these links:
DVRescue GUI
DVRescue CLI
Test files
A DV transfer station would be great, but is not required. See the DVRescue Transfer Station Set-up Guide for additional details.
DV deck and corresponding power adapter/cable
DV videotapes compatible with the deck you have
FireWire cable to connect your deck to your computer
Any adapters need to establish a FireWire connection
A cleaning tape
________________________________________________________
Dave Rice (he/they) is an audiovisual archivist and consultant based in New York City. He has worked for broadcasters such as Democracy Now! and Channel 13, and organizations like amongst others the United Nations, WITNESS or the Downtown Community Television. He currently directs audiovisual preservation at the CUNY Television, the largest educational access channel in the United States run by the City University of New York.
Libby Savage Hopfauf (she/her/hers) Libby Savage Hopfauf has been the Program Manager/Audiovisual Archivist at Moving Image Preservation of Puget Sound (MIPoPS) and the Audiovisual Archivist at the Seattle Municipal Archives since 2015. She received a Master's in Library and Information Science from the University of Washington and a Bachelor of the Arts in Creative Writing with a minor in Sociology from Western Washington University. She is passionate about creating resources that provide intuitive use of open-source tools, making the digitizing process accessible to archivists (with a wide variety of skill-levels) to ensure the sustainability of institutions to preserve their videotape and conquer the magnetic media crisis.