Introduction to custom compounding for the health care industry

Thursday, February 28, 2013 from 11:30 AM to 1:00 PM (PST)
Event Details
Hantel Technologies is pleased to announce the first seminar in the 2013 – 2014 Hantel Tech webinar series:
Introduction to Custom Compounding for the Health Care Industry

Speakers:   William Blasius (Foster Corporation)
Date:  Thursday, February 28th, 2013
Time:   11:30 AM – 1:00 PM PST
Location:   Hantel Technologies | 703 Sandoval Way | Hayward, CA

The first 30 minutes will be used as a networking session, and the seminar will begin at noon. The webinar link will be sent out the morning before the event.
You are cordially invited to attend in person at Hantel Tech (lunch provided / limited number of seats), to join live via Webinar, or to view at a later date (links will provided to registrants and to those who request notification). Please register on Event Brite for this free seminar - and select how you would like to participate.
-----------------------------------------------------
Abstract:
Materials can be manipulated to yield interesting effects not typically considered by engineers crafting medical devices. Foster Corporation was founded to serve the health care market and providers manufacturing minimally invasive medical devices. This basic capability has expanded to include the distribution of medical grade polymers and custom compounds for the pharmaceutical industry.  Foster's core competence is the formulation and compounding of radiopaqueelastomers. Today's presentation will cover these capabilities, recent developments with nano-reinforced polyamides, as well as ideas on designing for manufacturing, for the supply chain, and for differentiation.
William Blasius has been working with polymers for the past 30 years in research and development positions at both leading global companies such as Unilever, Nova Chemicals and Clariant Corporation as well as for smaller, entrepreneurial companies including ECM Plastics and Tectonic Industries.  He is currently Manager R&D/Polymer Science for Foster Corporation in Putnam, CT.  His hands-on experience includes applications for adhesives, coatings, rubber and thermoplastics.  He has synthesized, formulated, compounded and made finished products from a broad range of polymeric materials.  He holds 13 US and International patents for compositions of matter, applications and consumer products.  He has been a member of the Society of Plastics Engineers (SPE) since 1984 and is currently on the SPE Thermoplastic Elastomers Special Interest Group's board of directors.  He is also a long time member of the American Chemical Society and Product Development and Management Association.  His ongoing interests include development of transparent polymeric alloys and reactive extrusion.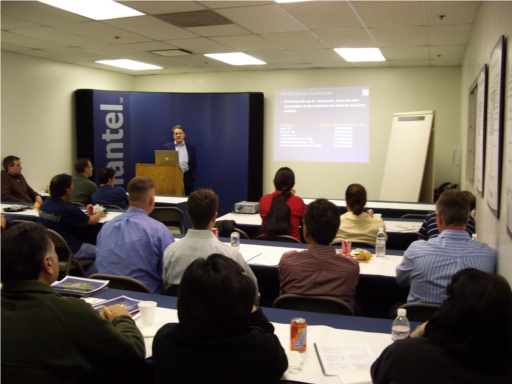 Since 2007, Hantel Tech has hosted a webinar series forum for the medical device community in the Bay Area generally on the fourth Thursday (noon) of each month. Please feel free to peruse former seminars in the series available via the hanteltech.com website and contact us at webinar@hanteltech.com for more information.
When & Where

Hantel Technologies
703 Sandoval Way
Hayward, CA 94544


Thursday, February 28, 2013 from 11:30 AM to 1:00 PM (PST)
Add to my calendar
Organizer
Hantel was founded in 1999 with a vision of a company that would bring medical devices to market, with all services provided under one roof. Since then, Hantel has become a leader in contract design and manufacturing, having developed hundreds of products for a wide array of applications. Hantel retains a highly qualified and diverse workforce with expertise in all aspects of medical device development and manufacturing. Located near the heart of Silicon Valley, Hantel is convenient and accessible to a wide array of device and bio-tech firms. Providing fast and flexible service, Hantel was built to meet your needs.