Introduction to Cued American English Exclusively For ASL Users Only
Description
The NCSA Deaf Children's Literacy Project invites you to discover how deaf children can learn the building blocks of English (phonemes), rhyming skills, and the language of their home through their eyes with cueing. Cued American English provides the foundation for language development and phonemic awareness that deaf children need for lifelong English literacy and for meeting success with hearing aids and cochlear implants.
Introduction to CAE: During this interactive workshop you will learn how the eight handshapes (groups of consonants) and four placements (groups of vowels) of the Cued Speech system are combined to express English visually. You will acquire the skills to leave the workshop and become a proficient cuer. The workshop will introduce the complete system and offer suggestions for developing your skills after the workshop.
There will be a lunch break each day for students on their own. Class space is limited to 10.
An NCSA Certified Instructor will teach the class.
This program is offered for 1.3 ASHA CEUs. (Introductory level; Basic Communication Processes Area )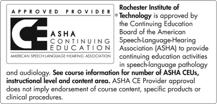 Students are invited to join the NCSA for
Cues on Tap
Friday evening April 20, 2018. Check the website at Cuedspeech.org for updates.
Need a Hotel?
NCSA Room Blockfor $99 a night.
Hampton Inn & Suites Rochester/Henrietta
280 Clay Road • Rochester, NY • 14623
CLICK HERE TO RESERVE HOTEL ROOM